Calcium Ascorbate
Choose Vivion as your Calcium Ascorbate supplier. Vivion is known as a reputable wholesale distributor of Calcium Ascorbate and other ingredients and chemicals. We ensure regulatory compliance, consistent high-quality products, and personalized service. If you are looking for bulk quantities of Calcium Ascorbate then please reach out below for a quote to work with Vivion as your trusted ingredients supplier.
Questions about this product? We are here to help
Contact Us
for more information.
Get Quote for Bulk Calcium Ascorbate
Get Quote for Bulk Calcium Ascorbate
Renowned for our unwavering product excellence, Vivion offers Calcium Ascorbate in quantities starting at 25 kg. As a trusted wholesale distributor of ingredients and chemicals, we ensure that when you choose us for bulk Calcium Ascorbate, your expectations are more than just met—they're exceeded.
Rest assured, at Vivion, we maintain a continuous inventory of Calcium Ascorbate across all our distribution centers. No matter the volume of your manufacturing needs, we stand committed to fulfilling them without delay. Our top concern is to ensure that your production runs smoothly; we guarantee constant supply at all times.
As a small company, we take great satisfaction in delivering the individualized attention and care that you are entitled to. This is evidenced by our strong and enduring partnerships with our customers. We have made it our mission to supply high-quality wholesale ingredients and chemicals at a fair cost while at the same time meeting the distinct needs of each one of our customers.
Calcium Ascorbate Specifications
| Name | Value |
| --- | --- |
| CAS Number | 5743-28-2 |
| Appearance | White to yellowish, Solid crystals or powder. |
| Flash Point | n/a |
| Partition Coefficient | n/a |
| pH | 6.8-7.4 (in water). |
| Vapor Pressure | n/a |
| Relative Density | n/a |
| Solubility | Freely soluble in water, practically insoluble in ethanol (96 per cent). |
| Odor | Almost odorless. |
| Boiling Point | n/a |
| Bulk Density | n/a |
Calcium Ascorbate Documentation
Whether you require safety data sheets or certifications, our dedicated quality team is always prepared to furnish any essential compliance documents for Calcium Ascorbate. To download our document packet for Calcium Ascorbate click on the "Get Documentation" button.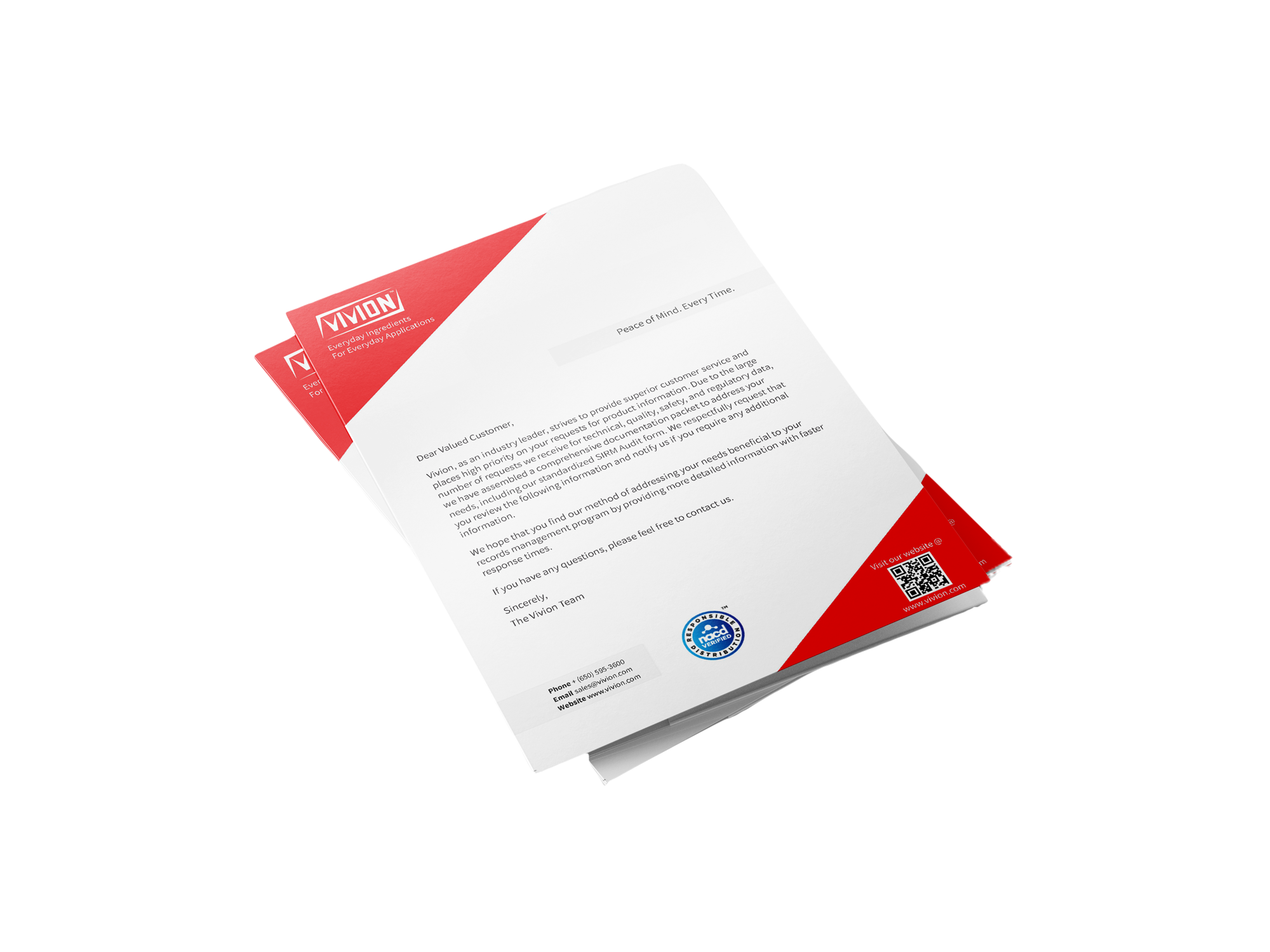 Calcium Ascorbate Documentation
Why Choose Vivion as Your Calcium Ascorbate Supplier
Whether you require safety data sheets or certifications, our dedicated quality team is always prepared to furnish any essential compliance documents for Calcium Ascorbate. We are deeply committed to keeping detailed and accurate records for all our ingredients. With our clear and extensive documentation, you can move forward with production without any compliance-related setbacks. Trust Vivion to provide you with the necessary support for seamless and compliant use of Calcium Ascorbate.
Experience unparalleled product quality and exceptional service with Vivion. When it comes to Calcium Ascorbate, trust us to provide you with the finest bulk supply, allowing you to enjoy the exclusive benefits of partnering with a wholesale ingredients supplier who is truly dedicated to your prosperity.
Calcium Ascorbate is a mineral salt of Ascorbic Acid (Vitamin C). Combining the benefits of calcium and Vitamin C, this non-acidic ingredient poses a dual advantage in several product applications.
Features and Benefits
Non-Acidic Nature: Gentle on the stomach, Calcium Ascorbate is suitable for consumers with sensitive digestive systems.
Highly Soluble: Calcium Ascorbate easily dissolves in water, ensuring consistent product quality.
Dual Nutritional Value: Enhancing the nutritional profile of products, Calcium Ascorbate provides both calcium and Vitamin C.
Stable Form of Vitamin C Because it is less prone to oxidation, Calcium Ascorbate assists with product shelf life and potency.
Use Cases
Dietary SupplementsCalcium Ascorbate is used in tablets and capsules as a non-acidic source of Vitamin C.
Fortified Foods: For a boost in nutritional value, Calcium Ascorbate is added to cereals, drinks, and other foods.
Cosmetics: Due to its antioxidant benefits, Calcium Ascorbate is often incorporated into creams and serums.
Beverage Industry Calcium Ascorbate is used in juices and drinks as a source of Vitamin C that doesn't affect the pH.
Discover the remarkable advantages of Calcium Ascorbate in your formulations. Opt for Vivion, your reliable wholesale provider of premium-grade Calcium Ascorbate for every requirement.
Ask One of Our Experts About Calcium Ascorbate
Let our team of experts help you navigate our large product range so you don't have to do it by yourself. To connect for detailed information or request a product sample, complete the form below.