Propylene Glycol
Choose Vivion as your Propylene Glycol supplier. Vivion is known as a reputable wholesale distributor of Propylene Glycol and other ingredients and chemicals. We ensure regulatory compliance, consistent high-quality products, and personalized service. If you are looking for bulk quantities of Propylene Glycol then please reach out below for a quote to work with Vivion as your trusted ingredients supplier.
Questions about this product? We are here to help
Contact Us
for more information.
Get Quote for Bulk Propylene Glycol
Get Quote for Bulk Propylene Glycol
Experience product purity and exceptional quality with our bulk Propylene Glycol, thanks to our extensive expertise in the field. Manufacturers can rely on our consistent supply and benefit from our affordable prices, expert guidance, and dedicated customer service. If you're in search of premium Propylene Glycol, look no further than Vivion, your trusted wholesale ingredient provider committed to delivering long-lasting value and building trust.
At Vivion, we always have a continuous availability of Propylene Glycol across all our warehouses. As a leading distributor of bulk ingredients, we guarantee to support your production by providing a steady supply. No matter the scale of your manufacturing needs, we are fully equipped to serve you promptly and efficiently.
Over the years, we've been happy to help our customers in their manufacturing processes and establishing enduring business partnerships. As a small business, we take pride in offering personalized care and attention tailored to your specific requirements. There is no doubt that we consistently deliver wholesale ingredients and chemicals of the highest quality at competitive prices.
Propylene Glycol Specifications
| Name | Value |
| --- | --- |
| CAS Number | 57-55-6 |
| Appearance | clear colourless liquid |
| Flash Point | 104 °C at 100.01 kPa |
| Partition Coefficient | Pow: 0.0851 at 20.5°C, log Pow: -1.07 at 20.5°C |
| pH | n/a |
| Vapor Pressure | 20 Pa at 25 °C |
| Relative Density | 1.038 at 20/20 °C, 1.036 at 25/25 °C |
| Solubility | Water solubility: 100 vol% |
| Odor | n/a |
| Boiling Point | n/a |
| Bulk Density | n/a |
Propylene Glycol Documentation
Whether you require safety data sheets or certifications, our dedicated quality team is always prepared to furnish any essential compliance documents for Propylene Glycol. To download our document packet for Propylene Glycol click on the "Get Documentation" button.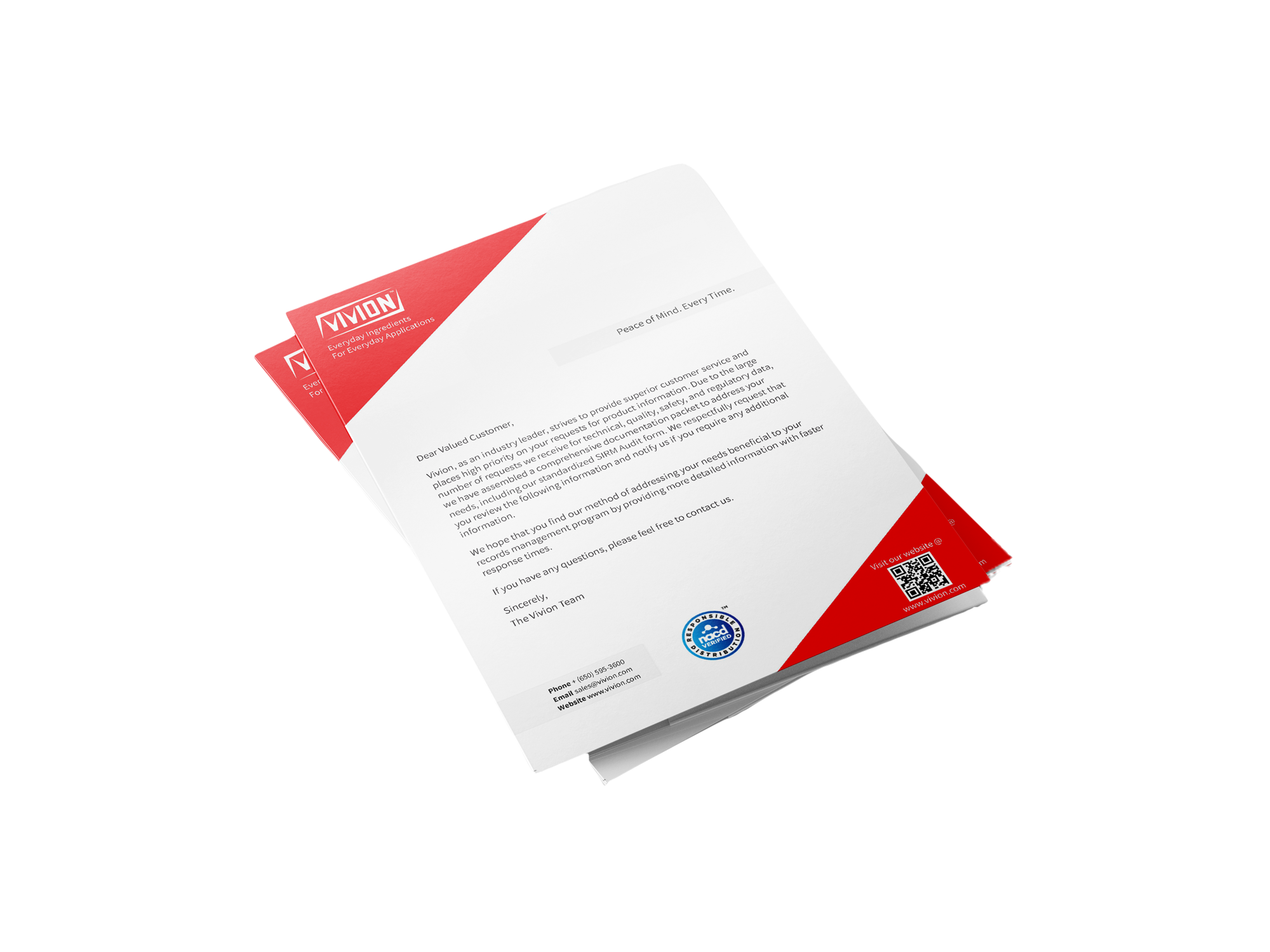 Propylene Glycol Documentation
Why Choose Vivion as Your Propylene Glycol Supplier
At Vivion, we understand the importance of accurate and up-to-date documentation for all our products, including Propylene Glycol. Our dedicated quality team is always available to provide you with any compliance-related records, certifications, or specifications you may need. With Vivion's comprehensive and user-friendly documentation, you can have complete confidence that any production issues related to compliance will be a thing of the past.
When you choose Vivion for your Propylene Glycol needs, you experience the exceptional benefits of partnering with a small business. The fact that we want you to succeed sets us apart, and we take pride in delivering superior quality ingredients and outstanding customer support.
Propylene Glycol offers a wide range of benefits for various industries. This versatile ingredient is commonly used in food, cosmetics, pharmaceuticals, and personal care products.
Features and Benefits
Multi-Purpose Utility: Serves multiple purposes, including as a solvent, humectant, and stabilizer in various industries.
Excellent Solubility: Has high solubility in water, making it easy to incorporate into different formulations.
Moisture Retention: Its humectant properties help to retain moisture, making it beneficial for skincare and personal care products.
Use Cases
Food Industry: Propylene Glycol is commonly used as a food additive, providing moisture retention and enhancing flavors in baked goods, dairy products, and beverages.
Cosmetics and Skincare: This ingredient is widely used in moisturizers, lotions, and creams to improve texture, provide hydration, and enhance product stability.
Pharmaceuticals: Propylene Glycol is utilized in medication formulations to improve solubility, stability, and enhance drug delivery.
Personal Care Products: It is commonly found in products such as toothpaste, deodorants, and hair care items, providing moisture retention and improving product consistency.
Experience the versatile advantages of Propylene Glycol, available from Vivion, your trusted bulk manufacturing distributor.
Ask One of Our Experts About Propylene Glycol
Let our team of experts help you navigate our large product range so you don't have to do it by yourself. To connect for detailed information or request a product sample, complete the form below.