Di-Pac
Choose Vivion as your Di-Pac supplier. Vivion is known as a reputable wholesale distributor of Di-Pac and other ingredients and chemicals. We ensure regulatory compliance, consistent high-quality products, and personalized service. If you are looking for bulk quantities of Di-Pac then please reach out below for a quote to work with Vivion as your trusted ingredients supplier.
Questions about this product? We are here to help
Contact Us
for more information.
Get Quote for Bulk Di-Pac
Get Quote for Bulk Di-Pac
As the foremost distributor of ingredients and chemicals, Vivion stands out as your premier source for bulk Di-Pac®, starting from quantities as minimal as 50 lbs. Our dedication to maintaining or even surpassing the pinnacle of industry standards ensures you receive nothing but the best.
Every one of our distribution hubs keeps a steady stock of Di-Pac®, offering you an advantage in both product accessibility and cost-effectiveness. Whether your demands are large or small, our wholesale chemicals and ingredients are always at hand, guaranteeing uninterrupted supply.
Making strong ties with our clients is at the heart of our business philosophy. Our continuous commitment to the consumer results in top-notch ingredients, attentive service, and cost-effective prices. We are able to provide services that are specifically tailored to meet your individual demands because of our small business organization.
Di-Pac Specifications
| Name | Value |
| --- | --- |
| CAS Number | 57-50-1 |
| Appearance | Dry powder, granules |
| Flash Point | n/a |
| Partition Coefficient | n/a |
| pH | n/a |
| Vapor Pressure | n/a |
| Relative Density | n/a |
| Solubility | n/a |
| Odor | n/a |
| Boiling Point | n/a |
| Bulk Density | n/a |
Di-Pac Documentation
Whether you require safety data sheets or certifications, our dedicated quality team is always prepared to furnish any essential compliance documents for Di-Pac. To download our document packet for Di-Pac click on the "Get Documentation" button.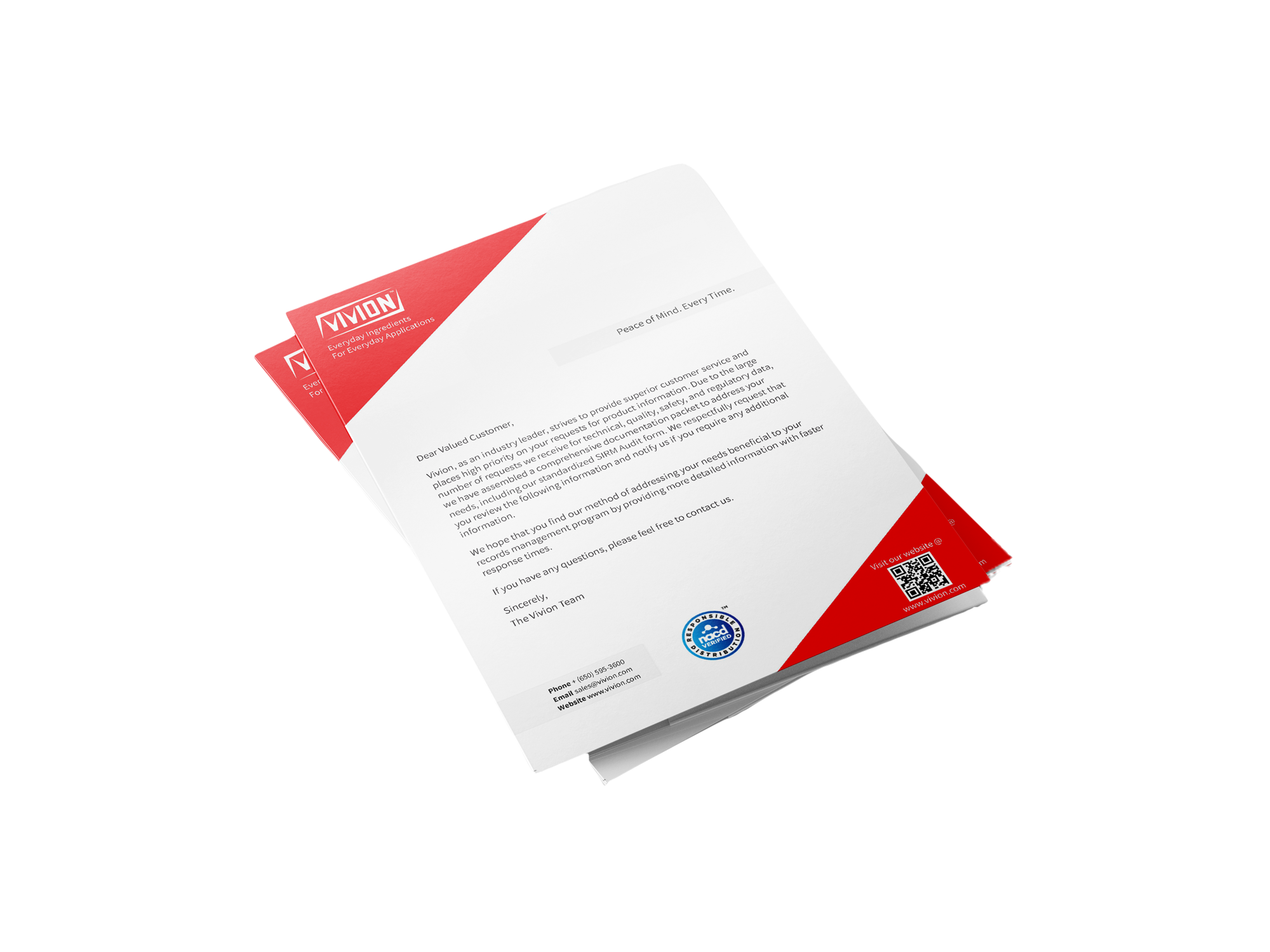 Why Choose Vivion as Your Di-Pac Supplier
We are an advocate for any customer who needs documentation for compliance purposes by regularly updating and archiving our products' information. For any record or certification, Vivion guarantees that we are able to provide you with the most current and accurate documents. With our thorough customer support, we promise open communication and guidance, and it's this commitment to quality that truly differentiates Vivion from the rest.
Vivion supplying your wholesale Di-Pac® means securing a trusted partner for your manufacturing business. If you're looking for outstanding product quality and personalized attention, entrust us with your Di-Pac® requirements and receive the unique benefits of working with Vivion, a company that truly values its customers.
For all your Di-Pac® necessities, you can trust Vivion as a dependable ally for your manufacturing enterprise. If you're looking for a dependable supplier who can meet your manufacturing needs with outstanding product excellence and individualized attention, source from us. Deciding on Vivion means teaming up with a small business that truly prizes its customer, guaranteeing you receive unmatched advantages for your Di-Pac® requirements.
Di-Pac®, a trademark of Domino, is a directly compressible and tableting sugar. Used commonly as an excipient, it works well with most formulations with its useful properties.
Features and Benefits
High Flowability: Ensures consistent and uniform filling during tablet manufacturing, leading to tablets of consistent weight and dosage.
Low Hygroscopicity: Prevents moisture damage, preserving the stability, integrity, and shelf life of products.
Sweetness: Can enhance product flavor and guarantee a consistent flavor profile.
High Solubility: Allows product to rapidly dissolve and absorb in the body, improving bioavailability.
Use Cases
Pharmaceutical Tablets: Directly compressible sugars can act as binders to hold active ingredients together.
Chewable Tablets: Vitamins, antacids, and other chewable medications use directly compressible sugars for pleasant taste and mouthfeel.
Nutraceutical Products: Nutritional supplements and herbal remedies in tablet form can use directly compressible sugars to ease manufacturing and improve taste.
Confectionery Products: Some candy or sweets are manufactured using direct compression, and these sugars can provide both the sweet taste and compressibility.
Upgrade your formulation with Di-Cal® from Vivion, the trusted wholesale ingredient distributor, for unmatched quality and performance.
Ask One of Our Experts About Di-Pac
Let our team of experts help you navigate our large product range so you don't have to do it by yourself. To connect for detailed information or request a product sample, complete the form below.