Sodium Bicarbonate
Choose Vivion as your Sodium Bicarbonate supplier. Vivion is known as a reputable wholesale distributor of Sodium Bicarbonate and other ingredients and chemicals. We ensure regulatory compliance, consistent high-quality products, and personalized service. If you are looking for bulk quantities of Sodium Bicarbonate then please reach out below for a quote to work with Vivion as your trusted ingredients supplier.
Questions about this product? We are here to help
Contact Us
for more information.
Get Quote for Bulk Sodium Bicarbonate
Get Quote for Bulk Sodium Bicarbonate
Discover the outstanding quality and dependability of our Sodium Bicarbonate in bulk, made possible by our vast industry experience. Manufacturers can trust in our consistent supply and benefit from our affordable prices, expert guidance, and dedicated customer service. If you're seeking premium Sodium Bicarbonate, look no further than Vivion, your trusted wholesale ingredient provider committed to delivering long-lasting value and building trust.
Rest assured, our Sodium Bicarbonate is always readily available across all our warehouses. As a leading distributor of bulk ingredients, we guarantee to support your production by maintaining a continuous supply. No matter the scale of your manufacturing needs, we are fully equipped to serve you promptly and efficiently.
We have had the privilege of assisting our customers in their manufacturing endeavors and establishing enduring business partnerships over the years. As a small business, we have the ability of offering personalized care and attention tailored to your specific requirements. We consistently deliver wholesale ingredients and chemicals of the highest quality at competitive prices.
Sodium Bicarbonate Specifications
| Name | Value |
| --- | --- |
| CAS Number | 144-55-8 |
| Appearance | White granular solid |
| Flash Point | n/a |
| Partition Coefficient | n/a |
| pH | 1% Solution = 8.0-8.5 |
| Vapor Pressure | n/a |
| Relative Density | n/a |
| Solubility | 8.8% at 20°C |
| Odor | odourless |
| Boiling Point | n/a |
| Bulk Density | 60 lbs/ ft3 |
Sodium Bicarbonate Documentation
Whether you require safety data sheets or certifications, our dedicated quality team is always prepared to furnish any essential compliance documents for Sodium Bicarbonate. To download our document packet for Sodium Bicarbonate click on the "Get Documentation" button.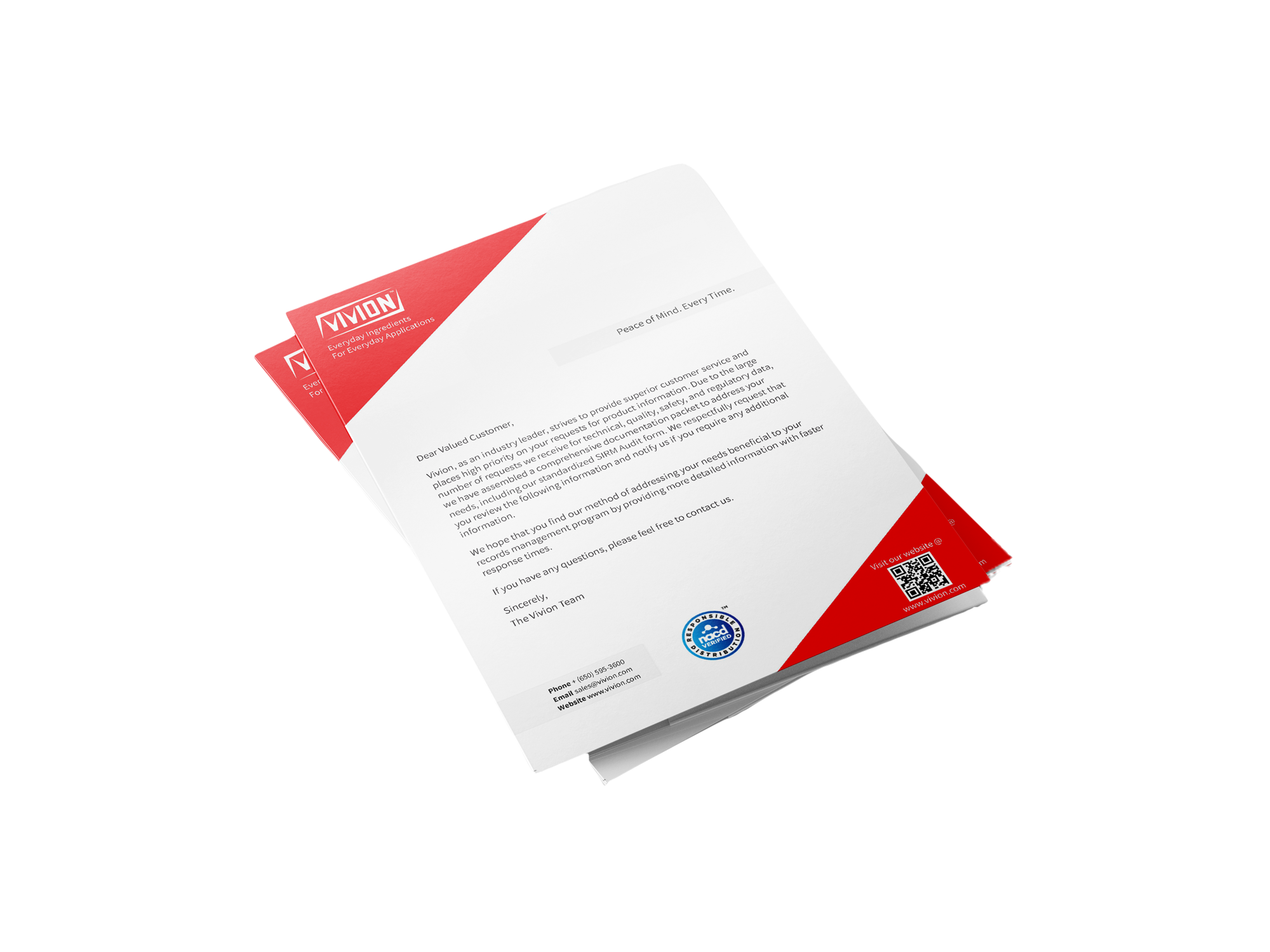 Sodium Bicarbonate Documentation
Why Choose Vivion as Your Sodium Bicarbonate Supplier
With Vivion, you'll always have access to accurate and up-to-date documentation for all our products, including Sodium Bicarbonate. This compliance means that we provide comprehensive and easily accessible documentation for this product. Whether you need certifications or specifications, our dedicated quality team is always available to assist you. With Vivion's thorough and user-friendly documentation, you can have complete confidence that any compliance-related production issues with Sodium Bicarbonate will be a thing of the past.
When you choose Vivion for your Sodium Bicarbonate needs, you experience the exceptional benefits of partnering with a small enterprise. We are committed to your success, and we take pride in delivering premium-grade ingredients and unparalleled customer service.
Sodium Bicarbonate is an ingredient that offers a wide range of features and benefits that make it an essential addition to your production.
Features and Benefits
Multipurpose: Capable of serving various purposes in different industries.
Natural and Safe: Derived from natural sources, Sodium Bicarbonate is a safe and eco-friendly choice for your everyday needs.
Easy to Use: Seamlessly integrates into your daily routine.
Efficient Cleaning Power: An ideal choice for maintaining a clean and fresh environment.
Use Cases
Household Cleaning: Sodium Bicarbonate is a reliable ally in home cleaning. It effectively removes stains, eliminates odors, and acts as a gentle abrasive for various surfaces.
Cooking and Baking: Enhance your culinary creations with Sodium Bicarbonate. It acts as a leavening agent, making baked goods rise and giving them a light and fluffy texture.
Personal Care: Sodium Bicarbonate can be used as a natural deodorant, toothpaste, or mouthwash, providing you with a fresh and clean feeling throughout the day.
Gardening: Give your plants a boost with Sodium Bicarbonate. It can help regulate pH levels in soil, promote healthy growth, and deter pests.
Discover the endless possibilities of Sodium Bicarbonate, the all-in-one solution for your everyday needs. Trust Vivion, your reliable distributor, to provide you with the highest quality Sodium Bicarbonate for all your requirements.
Ask One of Our Experts About Sodium Bicarbonate
Let our team of experts help you navigate our large product range so you don't have to do it by yourself. To connect for detailed information or request a product sample, complete the form below.