Corn Starch
Choose Vivion as your Corn Starch supplier. Vivion is known as a reputable wholesale distributor of Corn Starch and other ingredients and chemicals. We ensure regulatory compliance, consistent high-quality products, and personalized service. If you are looking for bulk quantities of Corn Starch then please reach out below for a quote to work with Vivion as your trusted ingredients supplier.
Questions about this product? We are here to help
Contact Us
for more information.
Get Quote for Bulk Corn Starch
Get Quote for Bulk Corn Starch
When it comes to sourcing bulk supplies of Corn Starch, Vivion stands out as the top choice among wholesale distributors of ingredients and chemicals. Throughout the years, we've had the pleasure of having the capacity to fully support and assist our customers due to us being a small business We're glad to provide individualized care and attention suited to your specific needs.
At Vivion, we're happy to say that we maintain a stable supply of Corn Starch across our multiple distribution centers. This eliminates any concerns about availability or stock constraints, and we believe that this is what truly sets us apart from other wholesale suppliers. Whether your demand is small or large, our wholesale ingredients and chemicals are always in stock and ready to be shipped.
You'll receive unwavering dedication and personalized attention with us as your chosen bulk supplier. Unlike larger competitors, we value each customer and go the extra mile to meet their unique requirements. Our commitment to seamless transactions and individualized assistance enhances the overall customer experience, ensuring your satisfaction with every purchase of Corn Starch.
Corn Starch Documentation
Whether you require safety data sheets or certifications, our dedicated quality team is always prepared to furnish any essential compliance documents for Corn Starch. To download our document packet for Corn Starch click on the "Get Documentation" button.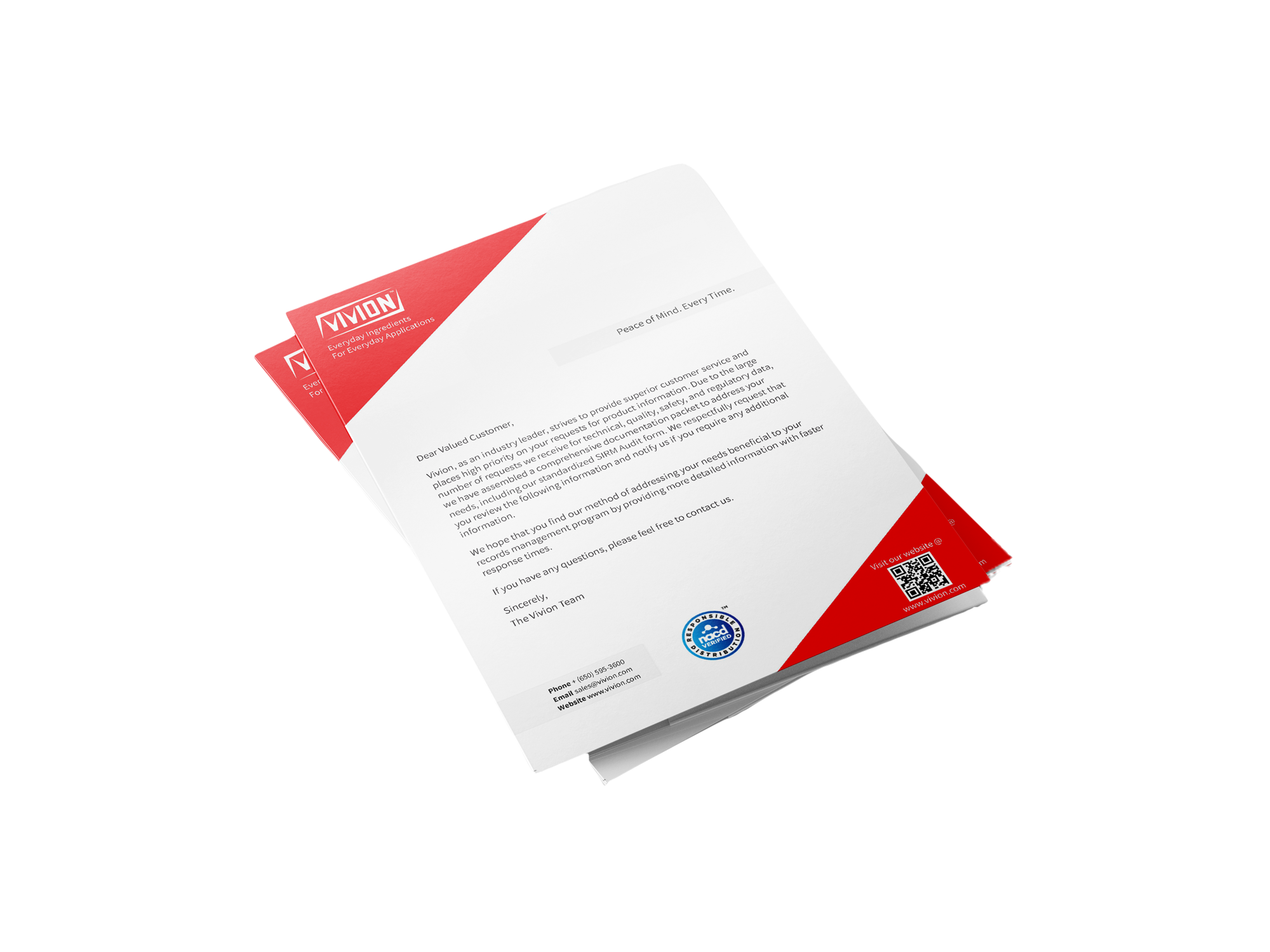 Corn Starch Documentation
Why Choose Vivion as Your Corn Starch Supplier
At Vivion, maintaining high-quality standards across all our products, such as our Corn Starch, is our top priority. Our unwavering commitment to regulatory standards is evident through our maintenance of product documentation. At any time you request it, our quality team will provide a documentation packet that includes all necessary information, including specifications and certifications. Product integrity is at the center of our business ethos, and we guarantee that our Corn Starch adheres to all requisite regulations.
Choosing Vivion as your go-to supplier for bulk Corn Starch guarantees a partnership with a trusted wholesale provider known for delivering top-notch product quality, tailored service, and unwavering commitment to meeting quality and regulatory standards. Experience the unique Vivion advantage, a company dedicated to its customers, and allow us to be your preferred ally for all your bulk Corn Starch requirements.
Corn Starch is a versatile ingredient derived from corn kernels and is known for its wide range of applications in various industries.
Features and Benefits
Natural Origin: Derived from corn kernels.
Multi-Purpose: Can be used in various recipes and products.
Thickening Agent: Adds texture and consistency to sauces, soups, and desserts.
Gluten-Free: Suitable for individuals with gluten sensitivities or dietary restrictions.
Binding Agent: Helps ingredients stick together in baked goods and coatings.
Use Cases
Culinary: Ideal for thickening sauces, gravies, and soups. Can also be used as a coating for fried foods.
Baking: Adds structure and stability to cakes, cookies, and bread recipes.
Personal Care: Used in skincare products as a natural alternative to talcum powder. Can also be used as a dry shampoo.
Textile Industry: Used as a sizing agent to strengthen fabrics and improve their resistance to wrinkling.
Experience the versatility of Corn Starch with Vivion, your trusted wholesale ingredients supplier.
Ask One of Our Experts About Corn Starch
Let our team of experts help you navigate our large product range so you don't have to do it by yourself. To connect for detailed information or request a product sample, complete the form below.