Calcium Silicate
Choose Vivion as your Calcium Silicate supplier. Vivion is known as a reputable wholesale distributor of Calcium Silicate and other ingredients and chemicals. We ensure regulatory compliance, consistent high-quality products, and personalized service. If you are looking for bulk quantities of Calcium Silicate then please reach out below for a quote to work with Vivion as your trusted ingredients supplier.
Questions about this product? We are here to help
Contact Us
for more information.
Get Quote for Bulk Calcium Silicate
Get Quote for Bulk Calcium Silicate
Trust in Vivion, as your trusted supplier for bulk Calcium Silicate due to our recognition for our unmatched consistency in the wholesale distribution of ingredients and chemicals. Our Calcium Silicate is offered in quantities starting from 30 lbs, and we are committed to exceeding your expectations with superior product quality.
No matter the size of your order, our wholesale materials and compounds remain readily available, guaranteeing a steady stock of product. We always make sure that our warehouses have inventory of Calcium Silicate, providing you with confidence in both product readiness and cost-effectiveness.
Our dedication to providing individualized care and service is unwavering. Being a small business, nurturing strong partnerships is what drives Vivion forward—offering premium wholesale materials and compounds at competitive prices, tailored to your unique business needs.
Calcium Silicate Specifications
| Name | Value |
| --- | --- |
| CAS Number | 1344-95-2 |
| Appearance | solid, Colour white, Form powder |
| Flash Point | n/a |
| Partition Coefficient | n/a |
| pH | 11 (50 g / l) (20 °C) |
| Vapor Pressure | n/a |
| Relative Density | approx. 2 g/cm3 (20 °C) |
| Solubility | hardly soluble |
| Odor | odorless |
| Boiling Point | n/a |
| Bulk Density | n/a |
Calcium Silicate Documentation
Whether you require safety data sheets or certifications, our dedicated quality team is always prepared to furnish any essential compliance documents for Calcium Silicate. To download our document packet for Calcium Silicate click on the "Get Documentation" button.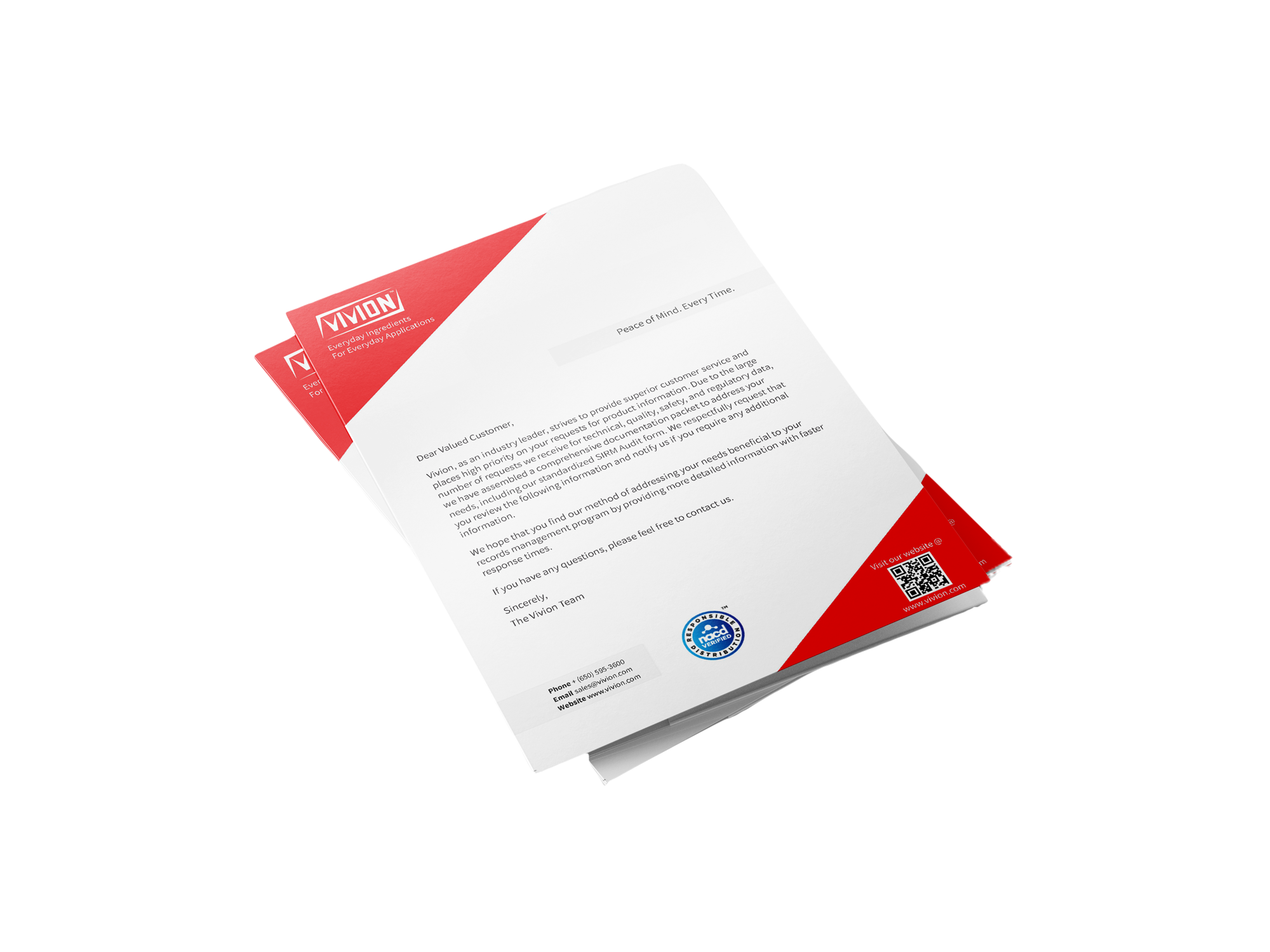 Calcium Silicate Documentation
Why Choose Vivion as Your Calcium Silicate Supplier
Our dedication to maintain product documentation is a perfect representation of why Vivion is your ideal bulk Calcium Silicate supplier. For all of our products, we create documentation packets that include safety data sheets, specifications, certifications, and more. You can count on us to deliver this documentation as well as honest and open communication at all times.
Seeking top-tier product standards and tailored client assistance? By selecting Vivion for your bulk Calcium Silicate needs, you're aligning with a dependable ally for your production journey. Rely on us for comprehensive wholesale Calcium Silicate solutions and experience the distinct benefits of partnering with a business deeply committed to help you succeed.
Calcium Silicate, which is derived from limestone and diatomaceous earth, is an ingredient with various characteristics that can be compatible with diverse formulations. As an anti-caking and moisture-absorbing agent, it can be used in various industries with a wide range of products.
Features and Benefits
Anti-caking Agent: Prevents the formation of lumps, ensuring a smooth texture in products.
Moisture Absorbent: Effectively reduces moisture, prolonging the shelf life of products.
Heat Resistant: Offers excellent thermal insulation properties.
Safe for Consumption: Generally recognized as safe (GRAS) when used in accordance with FDA guidelines.
Use Cases
Pharmaceuticals: In tablets and capsules, Calcium Lactate can act as a filler or anti-caking agent.
Food Industry: Calcium Lactate is used in baking powders, seasonings, and dry mixes to prevent lumping.
Cosmetics: Incorporated into powders to absorb excess moisture, Calcium Lactate ensures a smooth product application.
Agriculture: Calcium Lactate is often used in animal feeds to prevent caking and improve flow.
For a natural, effective, and versatile ingredient solution, turn to Vivion.
Ask One of Our Experts About Calcium Silicate
Let our team of experts help you navigate our large product range so you don't have to do it by yourself. To connect for detailed information or request a product sample, complete the form below.