Stearic Acid
Choose Vivion as your Stearic Acid supplier. Vivion is known as a reputable wholesale distributor of Stearic Acid and other ingredients and chemicals. We ensure regulatory compliance, consistent high-quality products, and personalized service. If you are looking for bulk quantities of Stearic Acid then please reach out below for a quote to work with Vivion as your trusted ingredients supplier.
Questions about this product? We are here to help
Contact Us
for more information.
Get Quote for Bulk Stearic Acid
Get Quote for Bulk Stearic Acid
Vivion is your prime destination for bulk Stearic Acid due to our reputation as a trusted wholesale supplier of ingredients and chemicals. Our Stearic Acid comes in quantities starting at 25 kg, and we commit to exceed your expectations, guaranteeing unparalleled product quality.
Every distribution hub of ours consistently stocks Stearic Acid, offering you an advantage in product accessibility and cost-effectiveness. No matter the size of your demand, our wholesale ingredients and chemicals stand ready, guaranteeing uninterrupted supply.
We're proud, as a small business, to be able to offer the attention and service that you require. Developing strong partnerships drives Vivion to do what we do-- distributing high quality wholesale ingredients and chemicals at a fair price while at the same time addresses your unique business needs.
Stearic Acid Specifications
| Name | Value |
| --- | --- |
| CAS Number | 57-11-4 |
Stearic Acid Documentation
Whether you require safety data sheets or certifications, our dedicated quality team is always prepared to furnish any essential compliance documents for Stearic Acid. To download our document packet for Stearic Acid click on the "Get Documentation" button.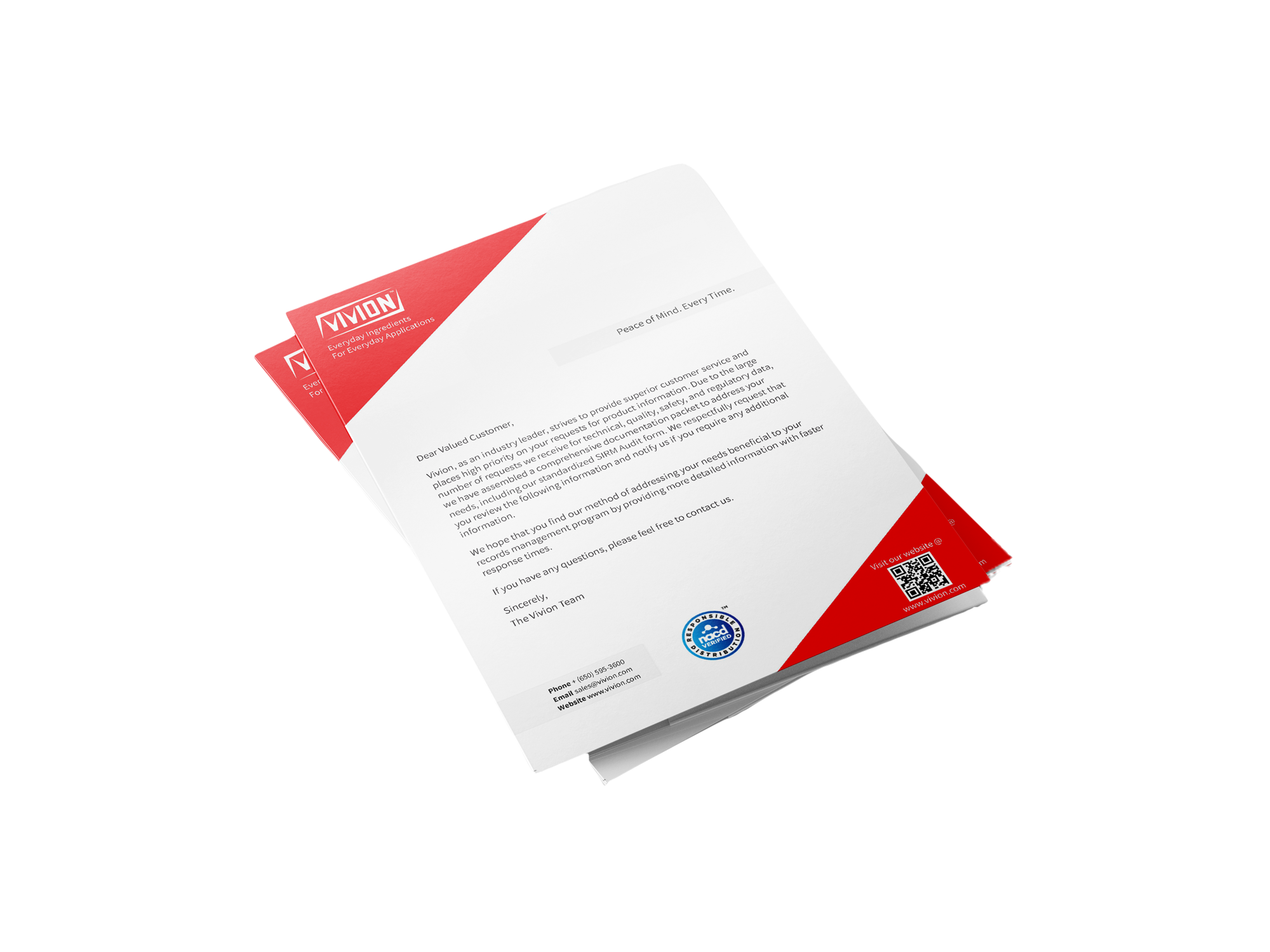 Stearic Acid Documentation
Why Choose Vivion as Your Stearic Acid Supplier
Has a compliance issue ever held up your manufacturing? At Vivion, we are vigilant in maintaining our Stearic Acid documentation. At any time, our quality team will be able to supply you with compliance documentation, whether it's specifications or certificates. You'll always receive clear communication and expert assistance with our customer service, demonstrating Vivion as a company committed to excellence.
When you source your bulk Stearic Acid from Vivion, you secure a steadfast partner for your manufacturing endeavors. Say goodbye to searching for exceptional product quality and personalized customer support. Count on us for all your wholesale Stearic Acid requirements and relish the unique advantage of collaborating with a small business that genuinely prioritizes your needs.
Introducing Stearic Acid, a versatile ingredient that offers a wide range of benefits for various industries. This natural fatty acid is solid at room temperature and has a white, waxy appearance. It is odorless, non-toxic, and easily soluble in both water and oil, making it a valuable addition to countless formulations.
Features and Benefits
Emulsifying Agent: Helps blend oil and water-based ingredients, creating stable and uniform mixtures.
Thickening Agent: Enhances the viscosity of products, providing a luxurious and creamy texture.
Moisturizing Properties: Locks in moisture, keeping skin and hair hydrated and nourished.
Improves Stability: Increases the shelf life of products by preventing separation and rancidity.
Use Cases
Cosmetics: Stearic Acid is used in creams, lotions, and makeup products to create smooth textures and improve spreadability.
Pharmaceuticals: Serving as a binder in tablet formulations, Stearic Acid ensures the active ingredients are evenly distributed.
Candles: Stearic Acid provides structure and hardness to candle wax, allowing for longer burn times.
Food Industry: Stearic Acid is used as a food additive in various products, such as chocolate, to improve texture and stability.
Upgrade your formulations with top-quality Stearic Acid from Vivion, the trusted supplier of wholesale ingredients.
Ask One of Our Experts About Stearic Acid
Let our team of experts help you navigate our large product range so you don't have to do it by yourself. To connect for detailed information or request a product sample, complete the form below.