Soy Protein
Choose Vivion as your Soy Protein supplier. Vivion is known as a reputable wholesale distributor of Soy Protein and other ingredients and chemicals. We ensure regulatory compliance, consistent high-quality products, and personalized service. If you are looking for bulk quantities of Soy Protein then please reach out below for a quote to work with Vivion as your trusted ingredients supplier.
Questions about this product? We are here to help
Contact Us
for more information.
Get Quote for Bulk Soy Protein
Get Quote for Bulk Soy Protein
Experience the unrivaled quality of Vivion's Soy Protein, the ultimate choice for all your nutritional production. As the leading distributor of top-notch ingredients and chemicals, we take pride in offering bulk quantities of Soy Protein, starting from as little as 20 kg. Our mission to exceed industry standards ensures that you receive nothing but the best.
With our strategically located distribution hubs, we guarantee easy access and cost-effectiveness when it comes to Soy Protein. Whether you require a large or small quantity, our extensive stock of wholesale chemicals and ingredients is always readily available, ensuring a seamless and uninterrupted supply.
Building strong relationships with our clients is the cornerstone of Vivion's business philosophy. We strive to provide you with exceptional ingredients, personalized service, and competitive prices. Our small business organization lets us tailor our services to meet your unique demands, so you get exactly what you need.
Soy Protein Specifications
| Name | Value |
| --- | --- |
| CAS Number | 9010-10-0 |
| Appearance | Shallow yellow or milk-white |
| Flash Point | n/a |
| Partition Coefficient | n/a |
| pH | n/a |
| Vapor Pressure | n/a |
| Relative Density | n/a |
| Solubility | n/a |
| Odor | n/a |
| Boiling Point | n/a |
| Bulk Density | n/a |
Soy Protein Documentation
Whether you require safety data sheets or certifications, our dedicated quality team is always prepared to furnish any essential compliance documents for Soy Protein. To download our document packet for Soy Protein click on the "Get Documentation" button.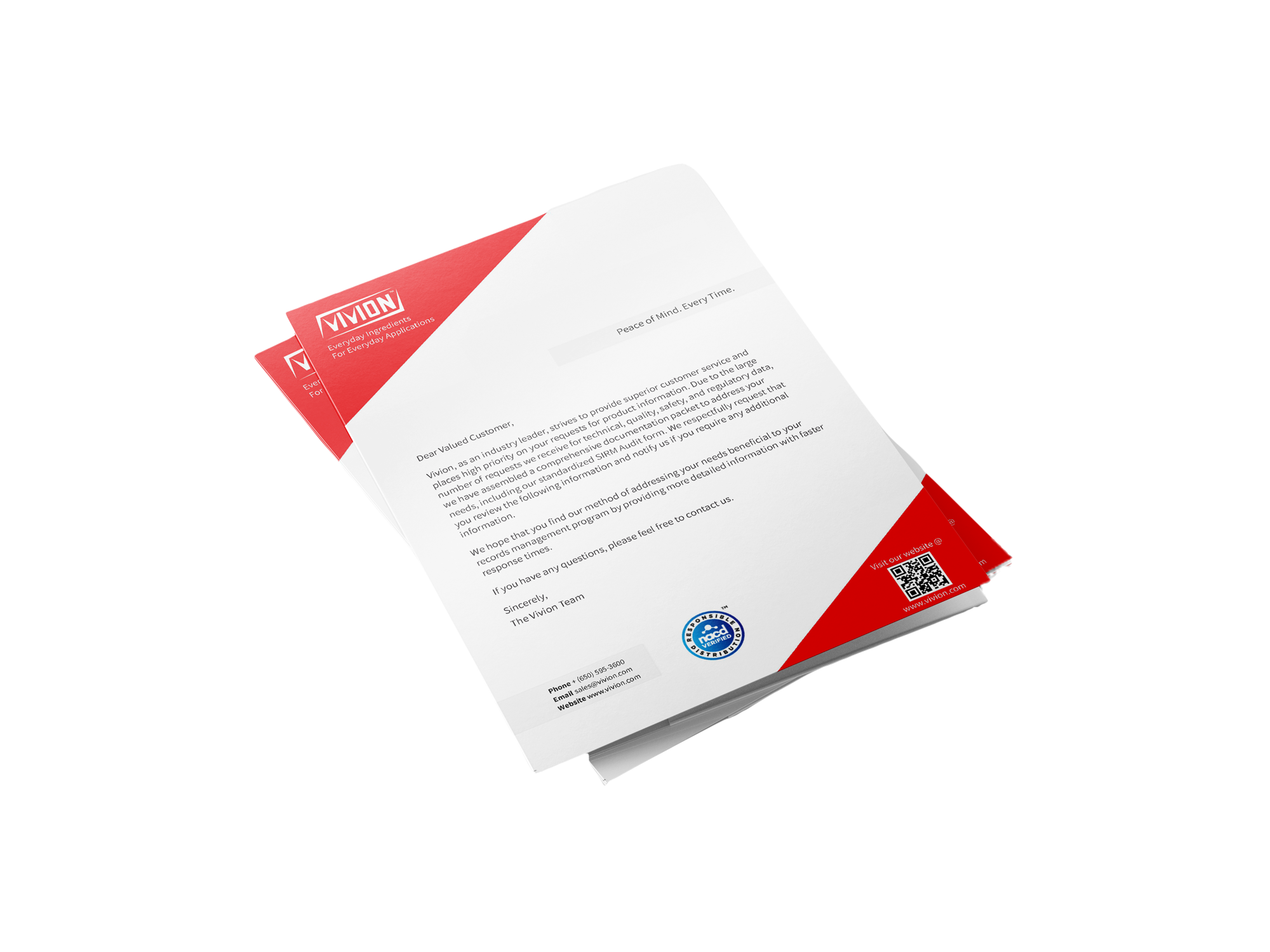 Soy Protein Documentation
Why Choose Vivion as Your Soy Protein Supplier
Vivion is proud to be your trusted partner when it comes to providing essential documentation for compliance purposes, whether that is specifications or certifications. Our commitment to excellence extends to our Soy Protein product, ensuring that you receive the most up-to-date and accurate information at all times.
We are thoroughly dedicated to quality in our products and customer service. We understand the importance of compliance and the need for reliable documentation, which is why we go above and beyond to provide you with the best possible service.
Sourcing your wholesale Soy Protein from Vivion means a reliable partnership for your manufacturing business. Experience exceptional product quality and personalized service by entrusting us with your Soy Protein needs. Discover the exclusive advantages of working with Vivion, a company that genuinely prioritizes its customers.
Soy Protein, a high-quality ingredient from Vivion, is a versatile and beneficial addition to various formulations. With its unique properties, it enhances the overall quality and performance of products.
Features and Benefits
Excellent Nutritional Profile: Soy protein is a rich source of essential amino acids, making it a valuable ingredient for boosting the nutritional content of products.
Easy Incorporation: Its fine texture and high solubility allow for effortless blending and incorporation into various formulations.
Improved Texture and Mouthfeel: Soy protein enhances the texture and mouthfeel of products, providing a smooth and enjoyable sensory experience.
Enhanced Digestibility: With its high digestibility, soy protein ensures optimal absorption and utilization of nutrients by the body.
Use Cases
Plant-Based Protein Powders: Soy protein serves as a primary ingredient in plant-based protein powders, offering a complete protein source for fitness enthusiasts and individuals following a vegetarian or vegan diet.
Bakery and Snack Products: Incorporating soy protein into baked goods and snacks enhances their nutritional value while maintaining taste and texture.
Dairy Alternatives: Soy protein is commonly used in the production of dairy-free milk, yogurt, and cheese alternatives, providing a creamy texture and a good source of protein.
Meat Substitutes: Soy protein is a key component in vegetarian and vegan meat substitutes, offering a meat-like texture and protein content.
Elevate your product formulations with Vivion's Soy Protein, a trusted ingredient distributor known for delivering exceptional quality and performance.
Ask One of Our Experts About Soy Protein
Let our team of experts help you navigate our large product range so you don't have to do it by yourself. To connect for detailed information or request a product sample, complete the form below.