Sodium Citrate
Choose Vivion as your Sodium Citrate supplier. Vivion is known as a reputable wholesale distributor of Sodium Citrate and other ingredients and chemicals. We ensure regulatory compliance, consistent high-quality products, and personalized service. If you are looking for bulk quantities of Sodium Citrate then please reach out below for a quote to work with Vivion as your trusted ingredients supplier.
Questions about this product? We are here to help
Contact Us
for more information.
Get Quote for Bulk Sodium Citrate
Get Quote for Bulk Sodium Citrate
Vivion, a leading wholesale distributor of ingredients and chemicals, is your ideal choice for bulk Sodium Citrate. We are able to support various manufacturing needs, offering this product in quantities as low as 25 kg. Be assured, with our stringent commitment to quality, every product upholds or exceeds the industry's highest standards.
We keep a consistent supply of Sodium Citrate at all of our warehouses, giving you an edge with product availability and competitive pricing. Regardless of the scale of your needs, our wholesale ingredients and chemicals are readily available, so you'll never face supply shortages.
At Vivion, fostering good relationships with our customers is at the heart of what we do. Because we put the customer first, you can count on receiving premium ingredients, individualized attention, and affordable costs. We are able to do this because we are a small company, and we offer personalized service catered to your exact needs.
Sodium Citrate Specifications
| Name | Value |
| --- | --- |
| CAS Number | 4-03-32 |
| Appearance | White crystalline |
| Flash Point | n/a |
| Partition Coefficient | log Pow: -1.8 - -0.2 |
| pH | 7.5 - 9.0 (77 °F / 25 °C), Concentration: 5 % |
| Vapor Pressure | n/a |
| Relative Density | 1.86 (68 °F / 20 °C) |
| Solubility | 400 - 700 g/l (68 - 77 °F / 20 - 25 °C) |
| Odor | odourless |
| Boiling Point | Decomposes below the boiling point. |
| Bulk Density | n/a |
Sodium Citrate Documentation
Whether you require safety data sheets or certifications, our dedicated quality team is always prepared to furnish any essential compliance documents for Sodium Citrate. To download our document packet for Sodium Citrate click on the "Get Documentation" button.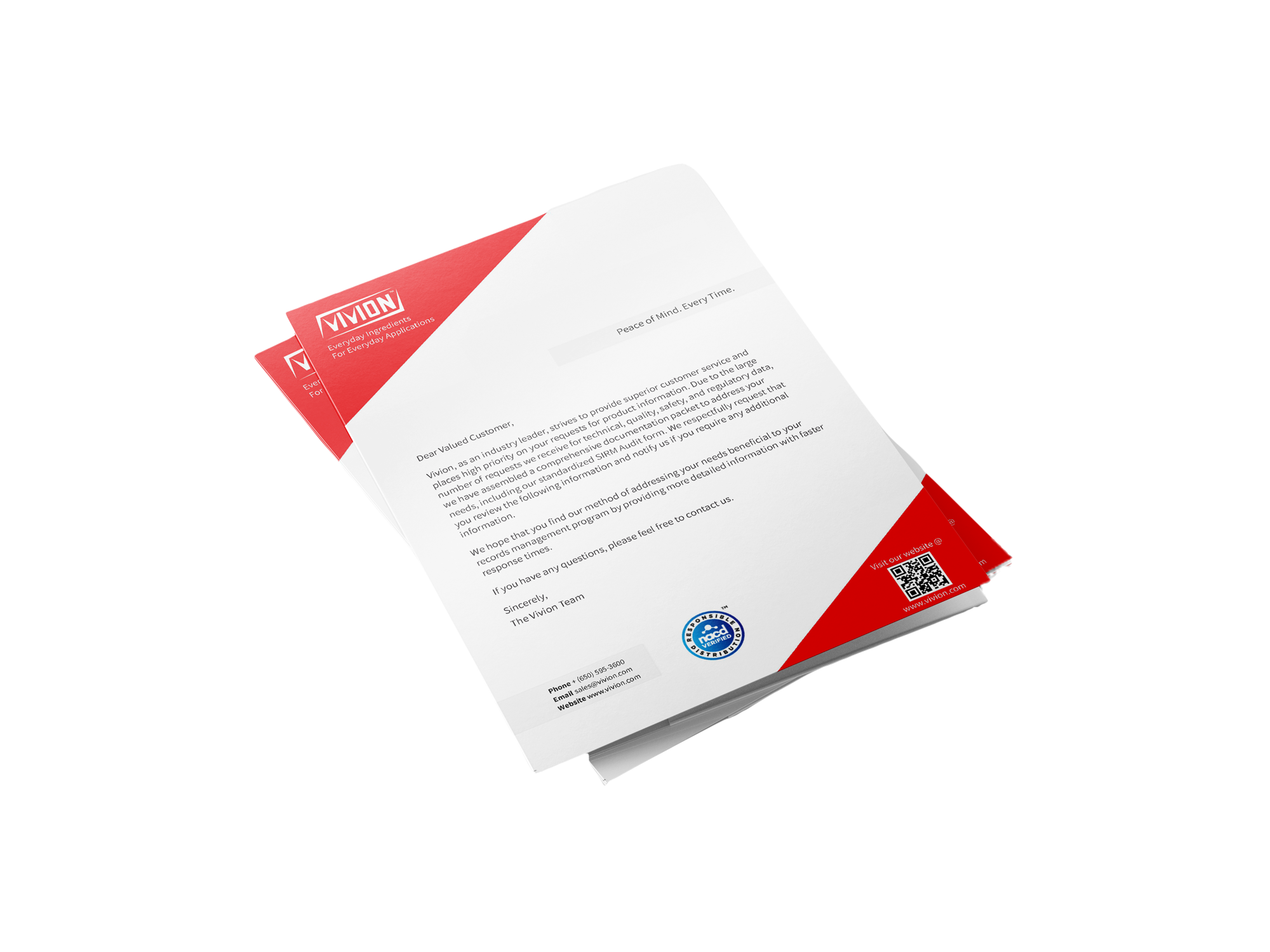 Sodium Citrate Documentation
Why Choose Vivion as Your Sodium Citrate Supplier
Vivion's pursuit of excellence can be seen through in our meticulous record-keeping for Sodium Citrate. This approach guarantees that our Sodium Citrate follows industry standards, complete with current certifications and documentation. Alongside our comprehensive customer care, we ensure clarity and comprehension in every interaction regarding Sodium Citrate. These endeavors not only uphold our values but truly set our Sodium Citrate apart.
Opting for Vivion as your supplier for bulk Sodium Citrate connects you with a distinguished wholesale specialist recognized for its exceptional product excellence, personalized assistance, and unwavering commitment to regulatory compliance. Allow us to become your reliable partner for all your wholesale Sodium Citrate needs, and discover the distinct advantage that comes from collaborating with Vivion - a small business that genuinely values its customers.
Sodium Citrate is a multifunctional compound that has been utilized in various industries for its wide range of applications. It is gaining popularity as a valuable ingredient in many modern products.
Features and Benefits
Food Additive: Commonly used as a food additive, acting as a preservative, flavor enhancer, and acidity regulator.
Pharmaceutical Applications: Utilized in the pharmaceutical industry for its ability to improve the stability and effectiveness of certain medications.
Anticoagulant Properties: Known for its anticoagulant properties, making it useful in blood collection tubes and preventing blood clotting.
Urinary Alkalinization: Can be used to increase the pH of urine, aiding in the treatment of certain urinary tract conditions.
Use Cases
Food and Beverage Industry: Sodium Citrate is a common ingredient in various food and beverage products, including carbonated drinks, jams, and dairy products.
Medical and Laboratory Settings: It is widely used in medical and laboratory settings for blood collection, as well as in the preparation of certain medications.
Personal Care Products: Sodium Citrate can be found in personal care products such as toothpaste and mouthwash, providing benefits like tartar control and pH balancing.
Elevate your product with Sodium Citrate from Vivion, the trusted name in wholesale ingredient supply.
Ask One of Our Experts About Sodium Citrate
Let our team of experts help you navigate our large product range so you don't have to do it by yourself. To connect for detailed information or request a product sample, complete the form below.