Sipernat
Choose Vivion as your Sipernat supplier. Vivion is known as a reputable wholesale distributor of Sipernat and other ingredients and chemicals. We ensure regulatory compliance, consistent high-quality products, and personalized service. If you are looking for bulk quantities of Sipernat then please reach out below for a quote to work with Vivion as your trusted ingredients supplier.
Questions about this product? We are here to help
Contact Us
for more information.
Get Quote for Bulk Sipernat
Get Quote for Bulk Sipernat
Vivion is a renowned wholesale distributor of ingredients and chemicals, offering Sipernat®, a trademark of Evonik, in convenient quantities. Our product excellence ensures that when you choose to source Sipernat® from us, you can expect unmatched quality and satisfaction in your bulk ingredient needs.
We comprehend how important it is to keep consistent stock of Sipernat® in all our distribution centers. We prioritize ensuring that your production never faces any interruptions, guaranteeing supply. No matter the volume of your manufacturing operations, we are fully equipped to meet your requirements promptly and efficiently.
Over the years, it has been an honor to support our customers in their manufacturing endeavors and establish long-lasting business partnerships. As a small business, we take pride in offering personalized care and attention tailored to your specific needs. Moreover, we consistently deliver wholesale ingredients and chemicals of the highest quality at competitive prices.
Sipernat Specifications
| Name | Value |
| --- | --- |
| CAS Number | 112926-00-8 |
| Appearance | Solid white powder |
| Flash Point | n/a |
| Partition Coefficient | n/a |
| pH | ca. 6.5 |
| Vapor Pressure | n/a |
| Relative Density | ca.6,5 g/cm3 |
| Solubility | Hardly Soluble |
| Odor | odourless |
| Boiling Point | n/a |
| Bulk Density | n/a |
Sipernat Documentation
Whether you require safety data sheets or certifications, our dedicated quality team is always prepared to furnish any essential compliance documents for Sipernat. To download our document packet for Sipernat click on the "Get Documentation" button.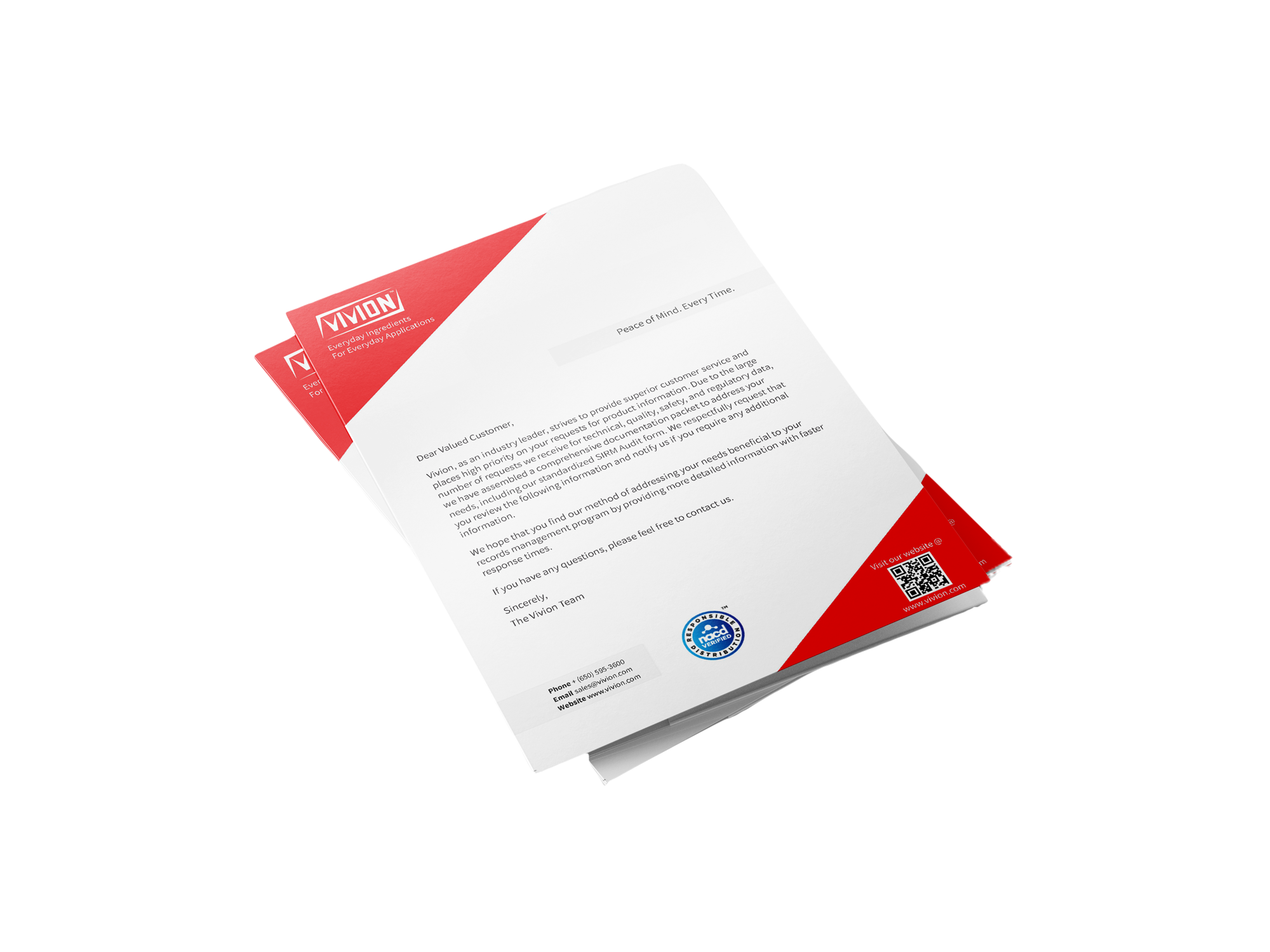 Why Choose Vivion as Your Sipernat Supplier
Keeping our product documentation is precise and up-to-date is of utmost importance to Vivion, and this commitment extends to Sipernat®. Our dedicated quality team is fully equipped to furnish all compliance-related documents, such as specifications and certifications, to meet your requirements. With Sipernat®'s comprehensive and effortlessly accessible documentation, you can rest assured that any potential production delays arising from compliance concerns will be effectively averted.
When it comes to your Sipernat® needs, choosing us means unlocking the exceptional advantages of partnering with a small business. At Vivion, your satisfaction is our priority, and we promise that you will always receive products with top-notch quality and unwavering customer support.
Derived from silica, Sipernat® is a versatile and essential ingredient used in various industries. This white, powdery substance offers unique benefits and features that make it highly sought after.
Features and Benefits
Consistent Performance: Sipernat®'s stable composition ensures reliable and consistent results in various applications.
Easy Mixing: With its fine granularity, Sipernat® effortlessly blends with other ingredients, making formulation processes seamless.
Enhanced Absorption: Acts as an excellent absorbent, improving the effectiveness of products it is incorporated into.
Improved Texture: Contribute to the smooth and desirable texture of final products.
Use Cases
Cosmetics: Sipernat® is widely used in cosmetics to enhance the texture and absorb excess oil, leaving the skin feeling fresh and matte.
Pharmaceuticals: It is a key ingredient in various medications, providing enhanced absorption and improving the overall effectiveness of the product.
Food & Beverage: Sipernat® acts as an anti-caking agent, preventing clumping in powdered foods and ensuring a smooth and consistent texture.
Agriculture: Utilized as a soil conditioner, Sipernat® helps improve soil structure, water retention, and nutrient availability, promoting healthy plant growth.
Choose Sipernat® from Vivion, the trusted wholesale ingredient supplier known for its commitment to quality and excellence. Elevate your products with this exceptional ingredient today.
Ask One of Our Experts About Sipernat
Let our team of experts help you navigate our large product range so you don't have to do it by yourself. To connect for detailed information or request a product sample, complete the form below.