SC 150 Powder
Choose Vivion as your SC 150 Powder supplier. Vivion is known as a reputable wholesale distributor of SC 150 Powder and other ingredients and chemicals. We ensure regulatory compliance, consistent high-quality products, and personalized service. If you are looking for bulk quantities of SC 150 Powder then please reach out below for a quote to work with Vivion as your trusted ingredients supplier.
Questions about this product? We are here to help
Contact Us
for more information.
Get Quote for Bulk SC 150 Powder
Get Quote for Bulk SC 150 Powder
Introducing SC 150 Powder, the pine-tree derived cellulose product from CreaFill. As the leading distributor of ingredients and chemicals, Vivion takes pride in offering you the finest quality SC 150 Powder in bulk quantities, starting from as little as 44 lbs. Our promise to exceed industry standards ensures that you receive nothing short of excellence.
With our strategically located distribution hubs, we guarantee easy accessibility and cost-effectiveness when it comes to SC 150 Powder. Whether you require a large or small quantity, our extensive stock of wholesale chemicals and ingredients is always readily available, ensuring a seamless supply chain.
At Vivion, building strong relationships with our clients is why we do what we do. We strive to provide you with top-notch ingredients, personalized service, and competitive prices. Our small business organization allows us to tailor our services to meet your unique demands, ensuring your complete satisfaction.
SC 150 Powder Specifications
| Name | Value |
| --- | --- |
| CAS Number | 9004-34-6 |
| Appearance | White fibers |
| Flash Point | n/a |
| Partition Coefficient | n/a |
| pH | Average 7,0 |
| Vapor Pressure | n/a |
| Relative Density | 0,5 g/cm3 |
| Solubility | Insoluble in water |
| Odor | odourless |
| Boiling Point | n/a |
| Bulk Density | n/a |
SC 150 Powder Documentation
Whether you require safety data sheets or certifications, our dedicated quality team is always prepared to furnish any essential compliance documents for SC 150 Powder. To download our document packet for SC 150 Powder click on the "Get Documentation" button.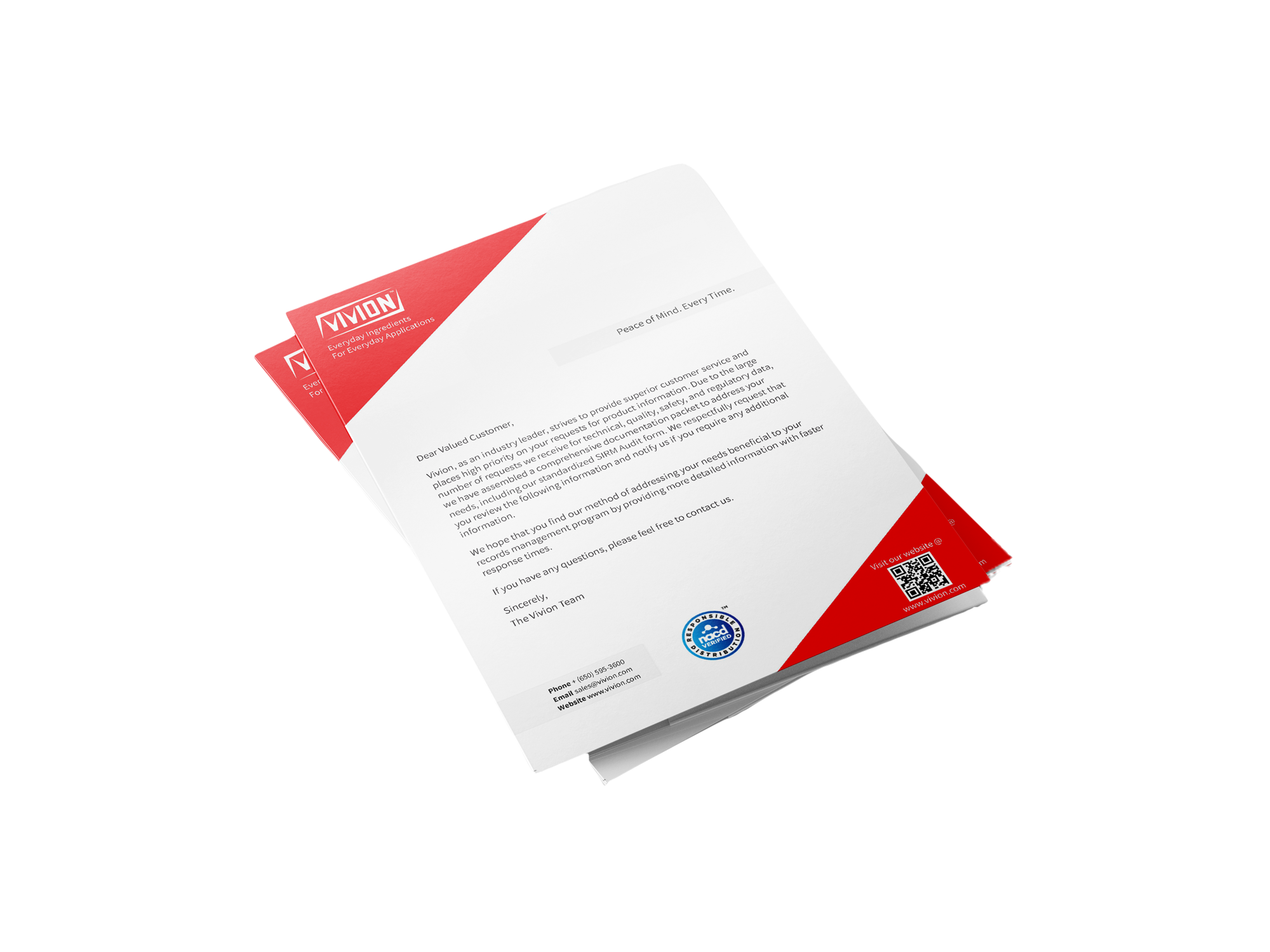 SC 150 Powder Documentation
Why Choose Vivion as Your SC 150 Powder Supplier
When it comes to compliance documentation, Vivion is your trusted ally. Our commitment to keeping our products' information up-to-date and securely archived makes us the go-to choice for customers seeking record-keeping and certification. With SC 150 Powder, we guarantee to provide you with the most accurate and current documents you need. Our dedicated customer support team ensures open communication and guidance throughout your journey. It is this unwavering dedication to quality that sets Vivion apart from the competition.
For your manufacturing business, choosing Vivion as your supplier for SC 150 Powder means selecting a reliable partner. With a commitment to exceptional product quality and personalized service, we are dedicated to meeting your specific SC 150 Powder requirements. Experience the unparalleled advantages of working with Vivion, a company that genuinely values its customers.
SC 150 Powder is a cutting-edge cellulose product supplied by Vivion, the trusted wholesale ingredient distributor. SC 150 Powder is a highly versatile and innovative ingredient that offers a wide range of benefits for various applications.
Features and Benefits
Enhanced Flowability: Experience seamless and consistent filling during the manufacturing process, resulting in tablets of uniform weight and dosage.
Superior Moisture Protection: Safeguard your products against moisture damage, ensuring their stability, integrity, and extended shelf life.
Unmatched Sweetness: Elevate the flavor profile of your products and guarantee a consistently delightful taste.
Rapid Solubility: Witness the swift dissolution and absorption of your products in the body, maximizing their bioavailability.
Use Cases
Pharmaceutical Tablets: Utilize SC 150 Powder as a binder to effectively hold active ingredients together.
Chewable Tablets: Create pleasant-tasting and easy-to-consume vitamins, antacids, and other chewable medications using SC 150 Powder.
Nutraceutical Products: Streamline the manufacturing process and enhance the taste of nutritional supplements and herbal remedies with SC 150 Powder.
Confectionery Products: Elevate your candy or sweet manufacturing with SC 150 Powder, providing both sweetness and compressibility.
Elevate your formulations to new heights with SC 150 Powder from Vivion, the unparalleled choice for exceptional quality and performance.
Ask One of Our Experts About SC 150 Powder
Let our team of experts help you navigate our large product range so you don't have to do it by yourself. To connect for detailed information or request a product sample, complete the form below.