Potassium Citrate
Choose Vivion as your Potassium Citrate supplier. Vivion is known as a reputable wholesale distributor of Potassium Citrate and other ingredients and chemicals. We ensure regulatory compliance, consistent high-quality products, and personalized service. If you are looking for bulk quantities of Potassium Citrate then please reach out below for a quote to work with Vivion as your trusted ingredients supplier.
Questions about this product? We are here to help
Contact Us
for more information.
Get Quote for Bulk Potassium Citrate
Get Quote for Bulk Potassium Citrate
Vivion is your best choice for bulk Potassium Citrate, due to our reliability as a trusted wholesale supplier of ingredients and chemicals. Our Potassium Citrate is available in quantities starting at 250 kg, and we are committed to surpassing your expectations by delivering unparalleled product quality.
With our distribution hubs consistently stocked with Potassium Citrate, you gain a competitive advantage in terms of product accessibility and cost-effectiveness. Regardless of the scale of your demand, our wholesale ingredients and chemicals are always ready to ensure a seamless supply.
As a small business, we take pride in offering the personalized attention and service that you require. At Vivion, our driving force is to cultivate strong partnerships, enabling us to distribute high-quality wholesale ingredients and chemicals at a fair price while catering to your unique business needs.
Potassium Citrate Specifications
| Name | Value |
| --- | --- |
| CAS Number | 5-06-00 |
| Appearance | White crystalline powder |
| Flash Point | n/a |
| Partition Coefficient | log Pow: -1.8 - -0.2 |
| pH | 7.5 - 9.0, Concentration: 5 % |
| Vapor Pressure | n/a |
| Relative Density | 1.98 (68 °F / 20 °C) |
| Solubility | 1,780 g/l (68 °F / 20 °C) |
| Odor | odourless |
| Boiling Point | n/a |
| Bulk Density | 950 - 1,200 kg/m3 |
Potassium Citrate Documentation
Whether you require safety data sheets or certifications, our dedicated quality team is always prepared to furnish any essential compliance documents for Potassium Citrate. To download our document packet for Potassium Citrate click on the "Get Documentation" button.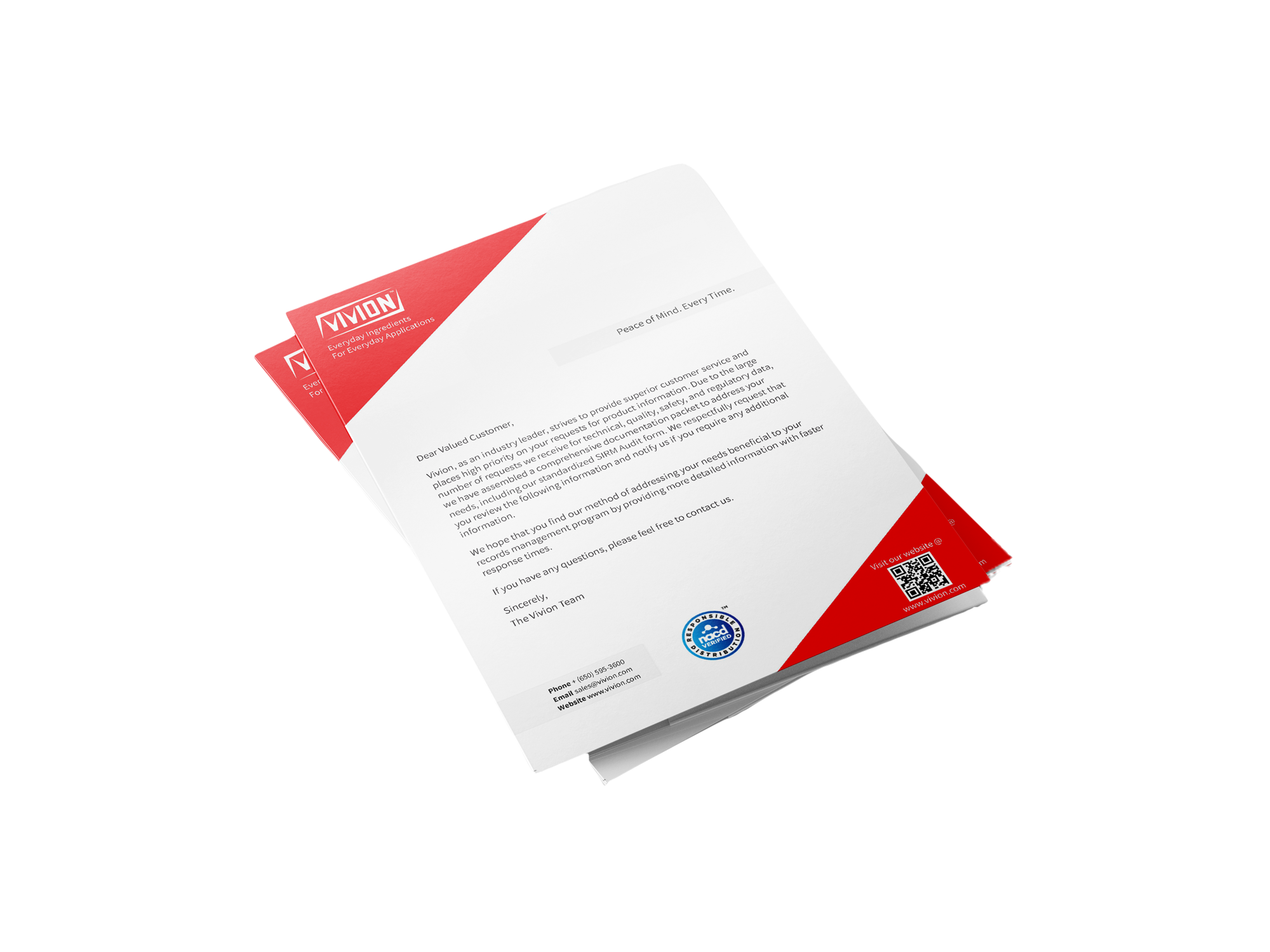 Potassium Citrate Documentation
Why Choose Vivion as Your Potassium Citrate Supplier
Have you ever faced manufacturing delays due to compliance issues? At Vivion, we prioritize the meticulous maintenance of our Potassium Citrate documentation. Our dedicated quality team is always ready to provide you with comprehensive compliance documentation, including specifications and certificates. With our exceptional customer service, you can expect transparent communication and expert assistance, showcasing Vivion as a company dedicated to delivering excellence in Potassium Citrate.
When you secure Vivion as your supplier of bulk Potassium Citrate, you gain a steadfast partner for your manufacturing endeavors. Say goodbye to searching for top-notch product excellence and personalized customer support. Depend on us for all your wholesale Potassium Citrate requirements and relish the unique advantage of collaborating with a small business that genuinely prioritizes your needs.
Introducing Potassium Citrate, a versatile and essential ingredient that offers a wide range of benefits. This natural compound is a colorless and odorless crystalline powder that is highly soluble in water.
Features and Benefits
Regulates pH Levels: Acts as a pH regulator, ensuring optimal acidity levels in various products.
Enhances Flavor: Adds a tangy and refreshing taste to food and beverage products.
Prevents Kidney Stones: Commonly used as a supplement to reduce the risk of kidney stone formation.
Improves Shelf Life: Helps extend the shelf life of food and beverage products.
Use Cases
Food and Beverage: Potassium Citrate is widely used in the food industry as an additive in soft drinks, jams, jellies, and dairy products.
Pharmaceutical: This ingredient is utilized in the formulation of medications, particularly in effervescent tablets and oral solutions.
Personal Care: Potassium Citrate is found in oral care products, such as mouthwashes and toothpaste, for its ability to freshen breath and maintain oral health.
Industrial Applications: Potassium Citrate is used in various industrial processes, including water treatment and metal cleaning.
Choose Vivion for your Potassium Citrate needs and experience the highest quality and reliability in wholesale ingredient supply.
Ask One of Our Experts About Potassium Citrate
Let our team of experts help you navigate our large product range so you don't have to do it by yourself. To connect for detailed information or request a product sample, complete the form below.