Potassium Chloride
Choose Vivion as your Potassium Chloride supplier. Vivion is known as a reputable wholesale distributor of Potassium Chloride and other ingredients and chemicals. We ensure regulatory compliance, consistent high-quality products, and personalized service. If you are looking for bulk quantities of Potassium Chloride then please reach out below for a quote to work with Vivion as your trusted ingredients supplier.
Questions about this product? We are here to help
Contact Us
for more information.
Get Quote for Bulk Potassium Chloride
Get Quote for Bulk Potassium Chloride
As the leading distributor of ingredients and chemicals, Vivion proudly presents Potassium Chloride, your ultimate source for this essential compound in bulk quantities. From as little as 50 lbs, we ensure that you receive nothing but the highest quality product, surpassing industry standards.
We fully stock our warehouses with Potassium Chloride, offering you a distinct advantage in terms of product availability and cost-effectiveness. Whether you require large or small quantities, our wholesale chemicals and ingredients are readily available, guaranteeing a continuous supply without interruption in production.
At Vivion, our small business organization allows us to tailor our services to meet your individual demands, ensuring your satisfaction every step of the way. Building strong relationships with our clients is the cornerstone of our business philosophy. We are always determined to provide top-notch ingredients, attentive service, and cost-effective prices.
Potassium Chloride Specifications
| Name | Value |
| --- | --- |
| CAS Number | 7447-40-7 |
| Appearance | White crystalline solid with no, , odor. |
| Flash Point | n/a |
| Partition Coefficient | n/a |
| pH | 7 |
| Vapor Pressure | n/a |
| Relative Density | 1.987 Water=1 |
| Solubility | 34 g/100 cc water at 20°C (68°F) |
| Odor | odourless |
| Boiling Point | n/a |
| Bulk Density | n/a |
Potassium Chloride Documentation
Whether you require safety data sheets or certifications, our dedicated quality team is always prepared to furnish any essential compliance documents for Potassium Chloride. To download our document packet for Potassium Chloride click on the "Get Documentation" button.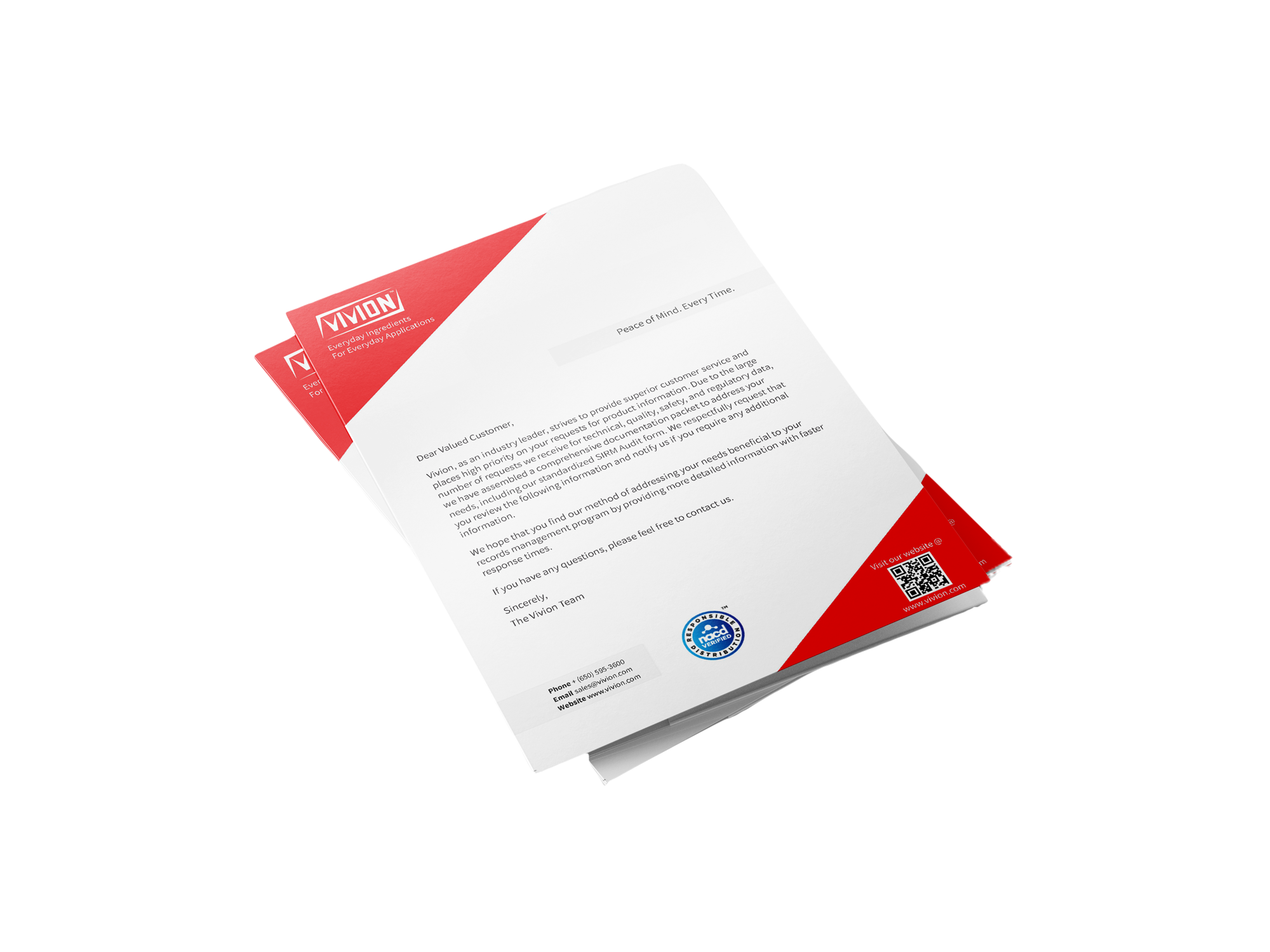 Potassium Chloride Documentation
Why Choose Vivion as Your Potassium Chloride Supplier
When it comes to Potassium Chloride, Vivion is your trusted partner in ensuring compliance and documentation needs. Our commitment to regularly updating and archiving product information makes us the go-to choice for any record or certification requirements. Rest assured, Vivion guarantees the provision of the most current and accurate documents for Potassium Chloride. Our dedicated customer support team is always ready to share our product documentation. Choose Vivion for unparalleled quality and reliability in Potassium Chloride documentation.
Deciding on Vivion as your supplier for wholesale Potassium Chloride guarantees a reliable partnership for your manufacturing needs. Experience exceptional product quality and personalized service by entrusting us with your Potassium Chloride requirements. With Vivion, you will enjoy the exclusive advantages of working with a company that genuinely prioritizes its customers.
Potassium Chloride is a versatile mineral compound found in the earth and ocean water. With its exceptional properties, it serves as an essential ingredient in many formulations.
Features and Benefits
Excellent Solubility: Readily dissolves in water, allowing for easy incorporation into different applications.
Enhanced Nutritional Value: A valuable source of potassium, an essential mineral that supports various bodily functions.
Improved Flavor: Adding Potassium Chloride to food and beverage products can enhance their taste profile, providing a pleasant and well-balanced flavor.
Extended Shelf Life: Helps maintain product stability and integrity, ensuring a longer shelf life.
Use Cases
Food and Beverage Industry: Potassium Chloride is commonly used as a salt substitute in various food products, including snacks, soups, and sauces.
Pharmaceutical Formulations: This compound is utilized in certain medications and supplements to provide the necessary potassium content for optimal health benefits.
Agricultural Applications: Potassium Chloride is an essential component of fertilizers, promoting healthy plant growth and improving crop yields.
Water Treatment: Potassium Chloride is used in water softening systems to remove hardness minerals, ensuring clean and safe water for various purposes.
Achieve your production goals with our premium Potassium Chloride, available through our reliable wholesale distribution network. Trust us for exceptional quality and performance.
Ask One of Our Experts About Potassium Chloride
Let our team of experts help you navigate our large product range so you don't have to do it by yourself. To connect for detailed information or request a product sample, complete the form below.