Pea Protein
Choose Vivion as your Pea Protein supplier. Vivion is known as a reputable wholesale distributor of Pea Protein and other ingredients and chemicals. We ensure regulatory compliance, consistent high-quality products, and personalized service. If you are looking for bulk quantities of Pea Protein then please reach out below for a quote to work with Vivion as your trusted ingredients supplier.
Questions about this product? We are here to help
Contact Us
for more information.
Get Quote for Bulk Pea Protein
Get Quote for Bulk Pea Protein
Vivion, a leading wholesale distributor of ingredients and chemicals, is your ideal choice for bulk Pea Protein. We can support various manufacturing needs, offering this product in quantities as low as 20 kg. You never have to worry, because with our stringent commitment to quality, every product upholds or exceeds the industry's highest standards.
Each one of our warehouses holds a consistent supply of Pea Protein, giving you an edge with product availability and competitive pricing. Regardless of the scale of your needs, our wholesale ingredients and chemicals are readily available, ensuring you'll never face supply shortages.
Our mission is to build good relationships with our customers. Because we put the customer first, you can count on receiving premium ingredients, individualized attention, and affordable costs. We are able to do this because we are a small company, and we offer personalized service catered to your exact needs.
Pea Protein Specifications
| Name | Value |
| --- | --- |
| CAS Number | 9010-10-0 |
| Appearance | powder, cream colour |
| Flash Point | n/a |
| Partition Coefficient | n/a |
| pH | 6.5-7.5 |
| Vapor Pressure | n/a |
| Relative Density | 0.6g/cm3 |
| Solubility | Soluble. |
| Odor | light pea flavour. |
| Boiling Point | n/a |
| Bulk Density | n/a |
Pea Protein Documentation
Whether you require safety data sheets or certifications, our dedicated quality team is always prepared to furnish any essential compliance documents for Pea Protein. To download our document packet for Pea Protein click on the "Get Documentation" button.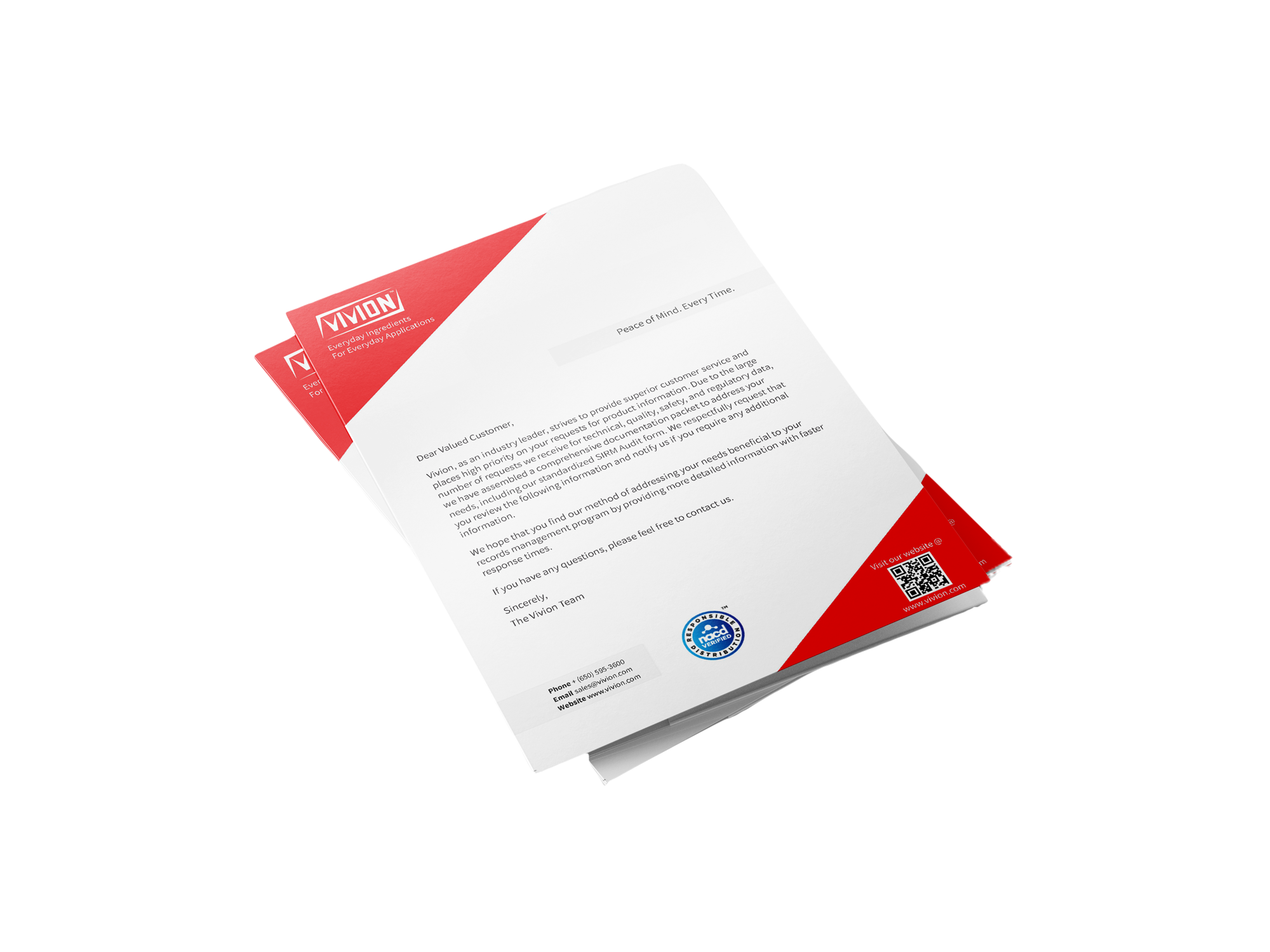 Pea Protein Documentation
Why Choose Vivion as Your Pea Protein Supplier
Vivion's thorough record-keeping for our Pea Protein exhibits our commitment to perfection. Using a strict methodology, we ensure that each product complies with industry norms and is supported by current certificates and documentation. Apart from providing extensive customer service, we place a high value on clear understanding in every communication pertaining to our Pea Protein. This persistent commitment to quality sets us apart from the competition and represents our values.
For your Pea Protein supply, partner with Vivion. Choosing us means working with a distinguished wholesale ingredient expert recognized for its exceptional product excellence, personalized assistance, and unwavering commitment to regulatory guidelines. Allow us to become your reliable partner for all your wholesale Pea Protein needs, and discover the distinct advantage that comes from collaborating with Vivion - a company that genuinely values its customers.
A plant-based and highly nutritious ingredient, Pea Protein has gained popularity in the health and fitness industry. It offers a range of benefits and is a versatile ingredient for various products.
Features and Benefits
Complete Protein Source: Rich in essential amino acids, making it an excellent choice for individuals looking to meet their protein needs. It is especially beneficial for vegans and vegetarians.
Muscle Recovery and Growth: Support muscle repair and growth after intense workouts, aiding in faster recovery.
Weight Management: Promote satiety and can be incorporated into weight loss diets.
Digestive Health: Easily digestible and gentle on the stomach. It is less likely to cause bloating or discomfort.
Use Cases
Protein Supplements: Pea Protein is a popular choice for protein powders and shakes, providing a convenient and plant-based option for individuals looking to increase their protein intake.
Baked Goods and Snacks: It can be used as an ingredient in various baked goods and snacks, such as protein bars and cookies, to enhance their nutritional value.
Dairy Alternatives: Pea Protein is often used in dairy-free milk alternatives, such as pea milk, as it offers a creamy texture and a good source of protein.
Improve your production with Pea Protein from Vivion, a reputable source of superior wholesale ingredients.
Ask One of Our Experts About Pea Protein
Let our team of experts help you navigate our large product range so you don't have to do it by yourself. To connect for detailed information or request a product sample, complete the form below.