Microcrystalline Cellulose
Choose Vivion as your Microcrystalline Cellulose supplier. Vivion is known as a reputable wholesale distributor of Microcrystalline Cellulose and other ingredients and chemicals. We ensure regulatory compliance, consistent high-quality products, and personalized service. If you are looking for bulk quantities of Microcrystalline Cellulose then please reach out below for a quote to work with Vivion as your trusted ingredients supplier.
Questions about this product? We are here to help
Contact Us
for more information.
Get Quote for Bulk Microcrystalline Cellulose
Get Quote for Bulk Microcrystalline Cellulose
Vivion, a wholesale distributor of ingredients and chemicals, is the optimal selection for fulfilling your requirements of Microcrystalline Cellulose. We offer Microcrystalline Cellulose in various quantities starting from 15 kg to accommodate a wide range of needs. Our steadfast commitment to quality ensures that our bulk ingredients and chemicals surpass the highest levels of excellence as defined by rigorous criteria.
Our distinctive advantage is our reliable and available inventory of Microcrystalline Cellulose housed in our many distribution sites. Regardless of the size of your demand, our wholesale ingredients and chemicals are consistently in stock, alleviating any concerns over supply limitations.
As a small business, Vivion offers a heightened level of individualized attention to our customers that is frequently lacking in larger competitors. We sincerely appreciate each of our clients and commit to performing any additional effort in order to fulfill their unique requirements. Our dedication to providing smooth transactions and personalized assistance enhances the overall customer experience and guarantees satisfaction.
Microcrystalline Cellulose Specifications
| Name | Value |
| --- | --- |
| CAS Number | 9004-34-6 |
| Appearance | Powder, • Color : White |
| Flash Point | n/a |
| Partition Coefficient | n/a |
| pH | Between 5 and 7.5 (12.5% solids dispersion) |
| Vapor Pressure | n/a |
| Relative Density | 0.25 – 0.5 |
| Solubility | Soluble in ammonical copper tetramine solution / Insoluble. |
| Odor | odourless |
| Boiling Point | n/a |
| Bulk Density | n/a |
Microcrystalline Cellulose Documentation
Whether you require safety data sheets or certifications, our dedicated quality team is always prepared to furnish any essential compliance documents for Microcrystalline Cellulose. To download our document packet for Microcrystalline Cellulose click on the "Get Documentation" button.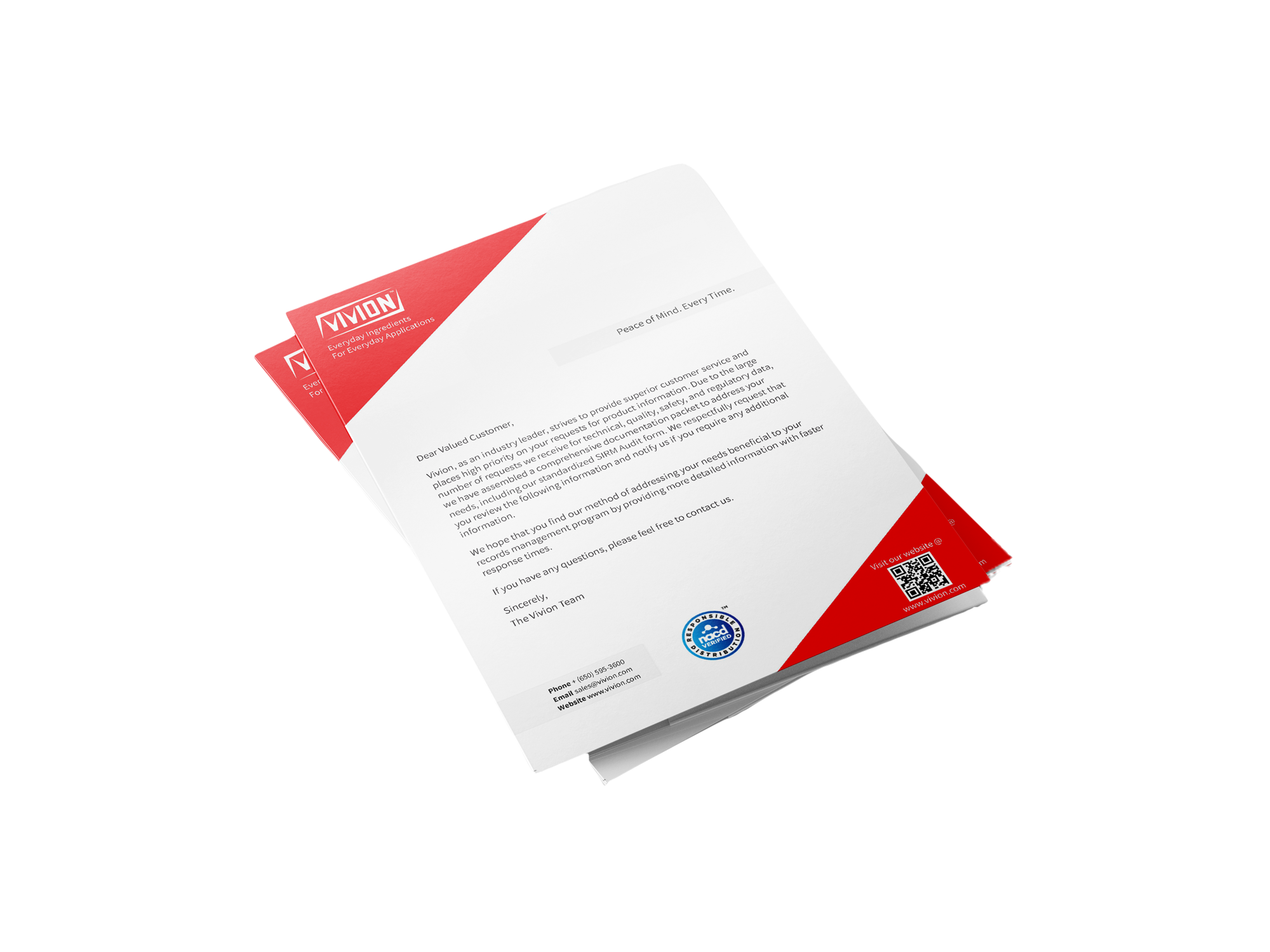 Microcrystalline Cellulose Documentation
Why Choose Vivion as Your Microcrystalline Cellulose Supplier
At Vivion, we put a strong emphasis on guaranteeing quality in our products and following regulations. We ensure the maintenance of thorough records and provide you with detailed documentation and certificates for compliance purposes and all relevant regulatory standards. Our products consistently show exceptional quality and adhere strictly to all regulatory requirements.
When you choose Vivion as your bulk Microcrystalline Cellulose supplier, you're picking a trusted wholesale supplier known for its high-quality products, one-on-one service, and strict compliance with quality and regulatory standards. Experience how Vivion, a company focused on its customers, can make a difference and let us be your go-to partner for Microcrystalline Cellulose in bulk.
When it comes to your bulk Microcrystalline Cellulose requirements, selecting us means accessing the exceptional advantages of partnering with a small business. At Vivion, we are committed to your triumph, and you can rely on us to consistently deliver superior ingredient quality along with unwavering customer support.
Microcrystalline Cellulose is a naturally derived, versatile agent extracted from wood pulp. A fine, white, odorless powder, it is prized for its unique characteristics in various industries.
Features and Benefits
Binder: Microcrystalline Cellulose acts as a binder, making it essential in tablet formulation to hold ingredients together.
Bulking Agent: It contributes to the desired size and weight of tablets and capsules without adding active ingredients.
Anti-Caking: Microcrystalline Cellulose ensures that powders flow smoothly without sticking, maintaining product consistency.
Flow Enhancer and Filler: In formulations, it ensures uniform distribution of ingredients and provides the desired texture.
Safe & Natural: Derived from cellulose, it's a non-toxic and biodegradable option, ideal for natural product formulations.
Use Cases
Pharmaceuticals: As a direct compression agent in tablet-making.
Nutraceuticals: In supplements and vitamins as a binder and filler.
Food & Beverage: As an anti-caking agent in spices, seasonings, and powdered foods.
Cosmetics: Provides texture and stability in beauty products.
Choose Vivion's bulk Microcrystalline Cellulose for a reliable, natural, and versatile solution in your formulations.
Ask One of Our Experts About Microcrystalline Cellulose
Let our team of experts help you navigate our large product range so you don't have to do it by yourself. To connect for detailed information or request a product sample, complete the form below.