Magnesium Oxide
Choose Vivion as your Magnesium Oxide supplier. Vivion is known as a reputable wholesale distributor of Magnesium Oxide and other ingredients and chemicals. We ensure regulatory compliance, consistent high-quality products, and personalized service. If you are looking for bulk quantities of Magnesium Oxide then please reach out below for a quote to work with Vivion as your trusted ingredients supplier.
Questions about this product? We are here to help
Contact Us
for more information.
Get Quote for Bulk Magnesium Oxide
Get Quote for Bulk Magnesium Oxide
Vivion is a distinguished wholesale distributor of ingredients and chemicals, presenting Magnesium Oxide in batches as small as 20 kg. Celebrated for our product excellence, when you source bulk Magnesium Oxide from us, you're assured of unparalleled quality and satisfaction.
At Vivion, we prioritize keeping a steady stock of Magnesium Oxide in all our distribution centers. Dedicated to ensuring your production never falters, we guarantee an uninterrupted supply. Regardless of your manufacturing volume, we're prepared to meet your needs promptly and efficiently.
It has been an honor throughout the years to assist our customers in their manufacturing and establish enduring business partnerships. Being a small business enables us to provide customized care and attention based on your particular requirements. In addition, we consistently provide wholesale ingredients and chemicals of the highest quality at competitive prices.
Magnesium Oxide Specifications
| Name | Value |
| --- | --- |
| CAS Number | 1309-48-4 |
| Appearance | powder, Colour : white |
| Flash Point | n/a |
| Partition Coefficient | n/a |
| pH | about 10.4 (4% slurry) |
| Vapor Pressure | n/a |
| Relative Density | n/a |
| Solubility | 0.0006% (water) |
| Odor | odourless |
| Boiling Point | 3600 |
| Bulk Density | n/a |
Magnesium Oxide Documentation
Whether you require safety data sheets or certifications, our dedicated quality team is always prepared to furnish any essential compliance documents for Magnesium Oxide. To download our document packet for Magnesium Oxide click on the "Get Documentation" button.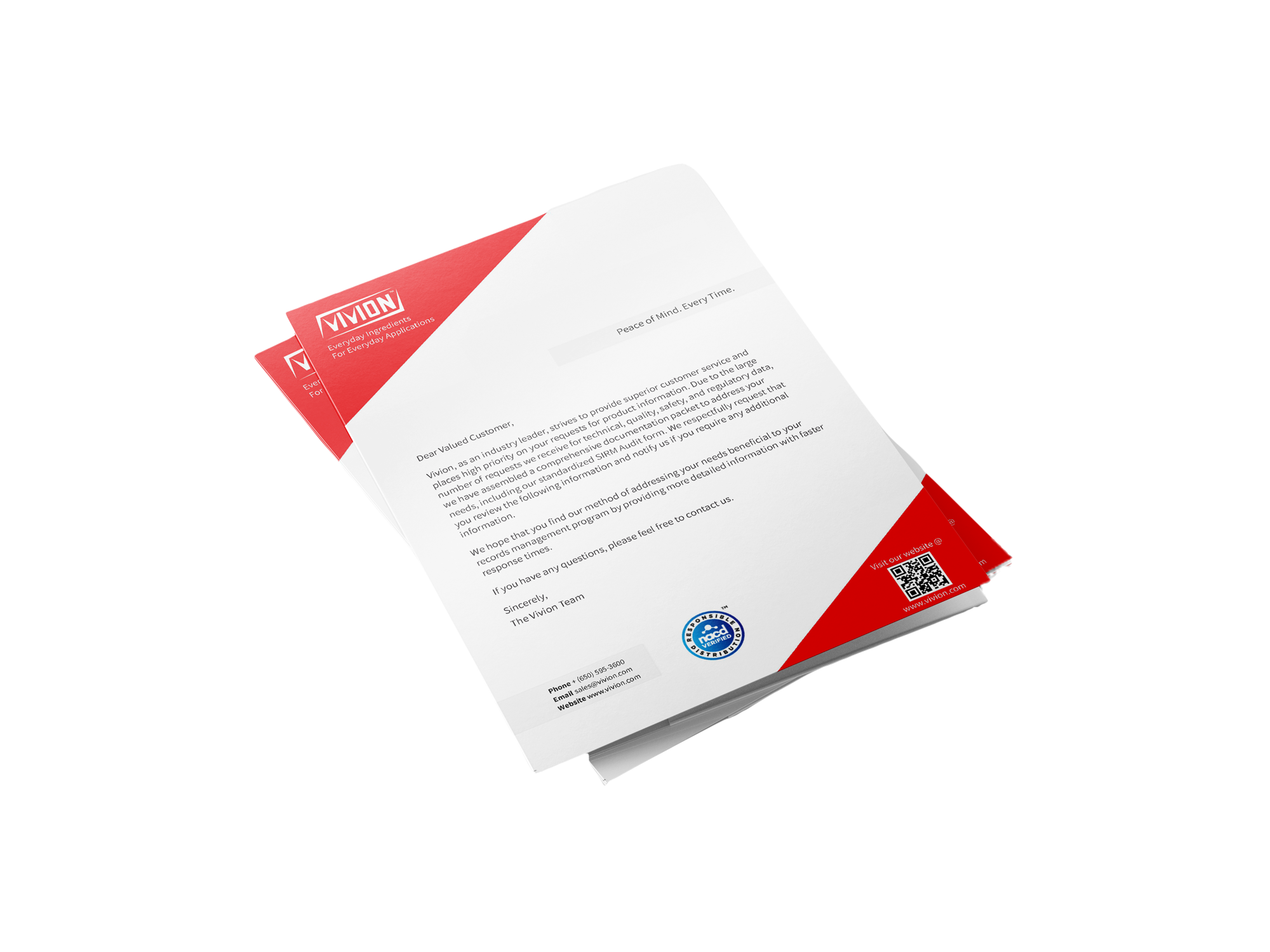 Magnesium Oxide Documentation
Why Choose Vivion as Your Magnesium Oxide Supplier
Maintaining accurate and current documentation for each of our ingredients is a top priority for Vivion. Our quality team is prepared to provide any compliance-related documents, including specifications and certifications. With Vivion's comprehensive and easily accessible documentation, you can be confident that production delays due to compliance issues will be avoided.
By choosing us for your bulk Magnesium Oxide needs, you tap into the distinctive benefits of a partnership with a small business. Vivion is dedicated to your success, and you can count on us to always provide supreme ingredient quality with steadfast customer support.
Choosing Vivion as your go-to supplier for bulk Magnesium Oxide ensures you are partnering with a trusted wholesale provider known for delivering top-notch product quality, tailored service, and unwavering commitment to meeting quality and regulatory standards. Experience the unique Vivion advantage, a company dedicated to prioritizing its customers, and let us be your preferred ally for all your bulk Magnesium Oxide requirements.
Derived from the mineral magnesite, Magnesium Oxide is a white, powdery substance that is used in multiple industries. In particular, it is valued for its high heat resistance for high-temperature applications.
Features and Benefits
Stable Composition: Ensures consistent performance in application.
Fine Granularity: Helps facilitate easy mixing in formulations and works with other ingredients.
Essential Nutrient: Supports bone health and muscle function as a vital supplement.
pH Regulation: Assists with products requiring balance in an acidic environment.
Use Cases
Nutraceutical: Frequently used in dietary supplements for bone and muscle health support.
Pharmaceutical: Used in antacids for relief from heartburn and indigestion.
Food & Beverage: Acts as a food additive and anti-caking agent in powdered foods.
Agriculture: Utilized as a soil conditioner to neutralize acidic soils, helping with plant growth.
Secure your high-quality Magnesium Oxide from Vivion, the trusted wholesale ingredient supplier leading the way in reliability and excellence.
Ask One of Our Experts About Magnesium Oxide
Let our team of experts help you navigate our large product range so you don't have to do it by yourself. To connect for detailed information or request a product sample, complete the form below.