Magnesium Citrate
Choose Vivion as your Magnesium Citrate supplier. Vivion is known as a reputable wholesale distributor of Magnesium Citrate and other ingredients and chemicals. We ensure regulatory compliance, consistent high-quality products, and personalized service. If you are looking for bulk quantities of Magnesium Citrate then please reach out below for a quote to work with Vivion as your trusted ingredients supplier.
Questions about this product? We are here to help
Contact Us
for more information.
Get Quote for Bulk Magnesium Citrate
Get Quote for Bulk Magnesium Citrate
Vivion, a leading wholesale distributor of ingredients and chemicals, is your ideal choice for bulk Magnesium Citrate. We support various manufacturing needs, offering this product in quantities as low as 20 kg. Be assured, with our stringent commitment to quality, every product upholds or exceeds the industry's highest standards.
All of our warehouses maintain a consistent supply of Magnesium Citrate, ensuring product availability and competitive pricing. Regardless of the scale of your needs, our wholesale ingredients and chemicals are readily available, ensuring you'll never face supply shortages.
Fostering good relationships with our customers is our philosophy. Because we put the customer first, you can count on receiving premium ingredients, individualized attention, and affordable costs. We are able to do this because we are a small company, and we offer personalized service catered to your exact needs.
Magnesium Citrate Specifications
| Name | Value |
| --- | --- |
| CAS Number | 3344-18-1 |
| Appearance | powder, Colour : white |
| Flash Point | n/a |
| Partition Coefficient | log Pow: -1.8 - -0.2 |
| pH | 5.0 - 9.0, Concentration: 5 % |
| Vapor Pressure | n/a |
| Relative Density | 1.7 - 2.0 (68 °F / 20 °C) |
| Solubility | 200 g/l (77 °F / 25 °C) |
| Odor | odourless |
| Boiling Point | n/a |
| Bulk Density | 400 - 800 kg/m3 |
Magnesium Citrate Documentation
Whether you require safety data sheets or certifications, our dedicated quality team is always prepared to furnish any essential compliance documents for Magnesium Citrate. To download our document packet for Magnesium Citrate click on the "Get Documentation" button.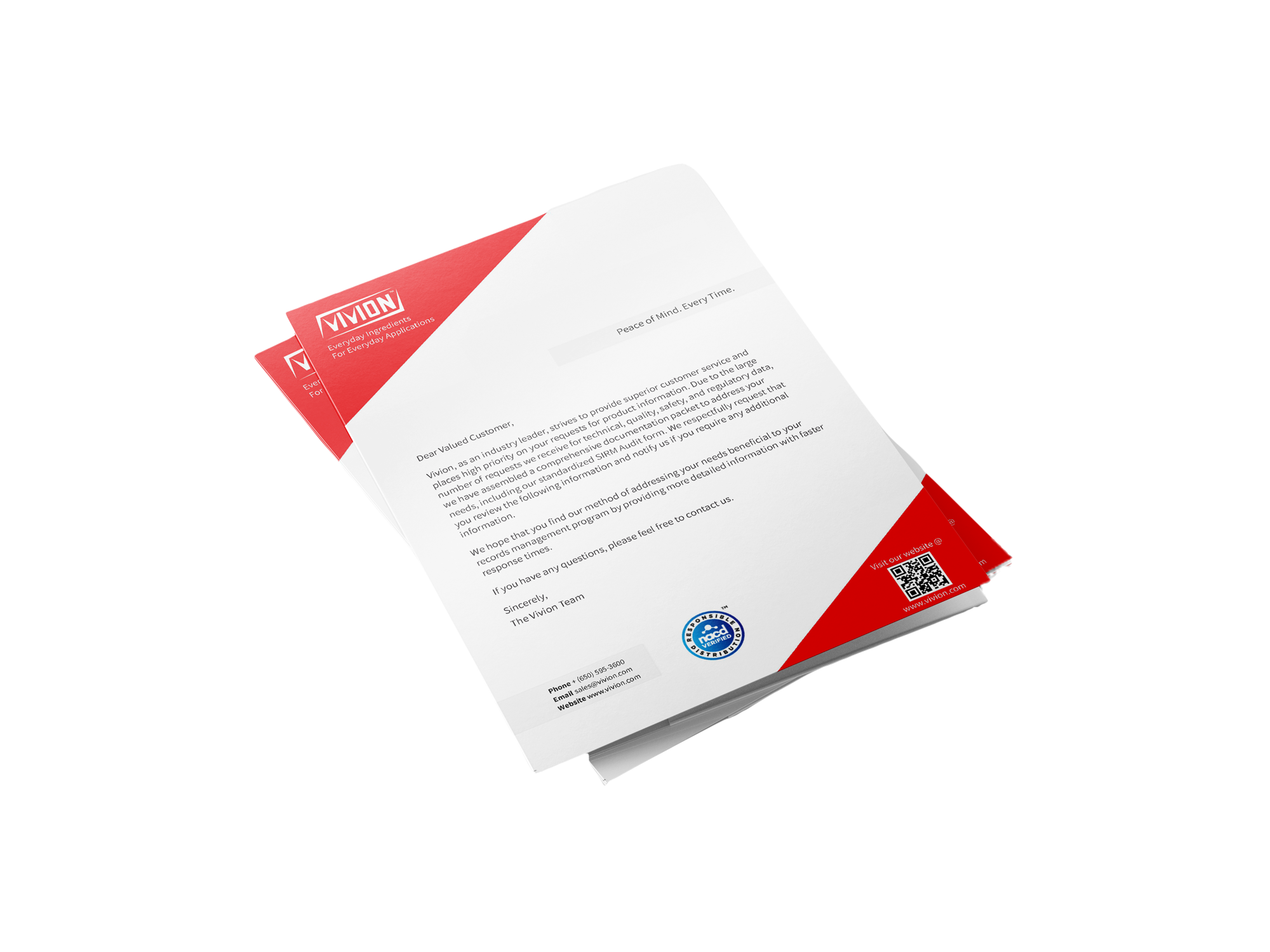 Magnesium Citrate Documentation
Why Choose Vivion as Your Magnesium Citrate Supplier
At Vivion, we have a vast library of documentation for all of our products for any compliance need. We guarantee that our magnesium citrate satisfies industry standards and is backed by up-to-date certifications and specifications, which you can always obtain upon request. In addition to providing thorough customer support, we guarantee product transparency for all of our offerings, including magnesium citrate. This not only aligns with our principles but also sets our Magnesium Citrate apart from competing products.
Making the decision on Vivion as your supplier for bulk Magnesium Citrate connects you with a distinguished wholesale specialist recognized for its exceptional product excellence, personalized assistance, and unwavering commitment to regulatory compliance. Allow us to become your reliable partner for all your wholesale Magnesium Citrate needs, and discover the distinct advantage that comes from collaborating with Vivion - a company that genuinely values its customers.
Popular in the health and wellness industry, Magnesium Citrate is a highly beneficial and bio-active compound. Made from natural sources, it can be incorporated into a variety of products to promote overall well-being.
Features and Benefits
Enhanced Digestive Health: Known for its ability to promote healthy digestion and relieve constipation by drawing water into the intestines.
Improved Sleep Quality: Shown to support better sleep by relaxing muscles and calming the nervous system, leading to a more restful night's sleep.
Reduced Muscle Cramps: Help alleviates muscle cramps and spasms by supporting proper muscle function and relaxation.
Stress Relief: Produces calming effect on the body and mind, helping to reduce stress and anxiety levels.
Use Cases
Dietary Supplements: Magnesium Citrate is a key ingredient in various dietary supplements aimed at promoting digestive health, improving sleep quality, and reducing muscle cramps.
Functional Foods & Beverages: It can be incorporated into functional foods and beverages to enhance their nutritional value and provide the benefits of magnesium.
Topical Applications: Magnesium Citrate is used in skincare products and muscle creams to support muscle relaxation and relieve tension.
Elevate your product with Magnesium Citrate from Vivion, a trusted supplier of high-quality wholesale ingredients.
Ask One of Our Experts About Magnesium Citrate
Let our team of experts help you navigate our large product range so you don't have to do it by yourself. To connect for detailed information or request a product sample, complete the form below.