Gum Arabic
Choose Vivion as your Gum Arabic supplier. Vivion is known as a reputable wholesale distributor of Gum Arabic and other ingredients and chemicals. We ensure regulatory compliance, consistent high-quality products, and personalized service. If you are looking for bulk quantities of Gum Arabic then please reach out below for a quote to work with Vivion as your trusted ingredients supplier.
Questions about this product? We are here to help
Contact Us
for more information.
Get Quote for Bulk Gum Arabic
Get Quote for Bulk Gum Arabic
Vivion is a renowned wholesale distributor of ingredients and chemicals, offering Gum Arabic in convenient quantities starting from 25 kg. Our promise to supply high quality products has made us a trusted source for bulk Gum Arabic, so you'll experience unmatched quality and satisfaction.
At Vivion, we know the importance of maintaining a consistent supply of Gum Arabic in all our distribution centers. Uninterrupted production is vital for our customers, so we always keep a steady and reliable stock. No matter the scale of your manufacturing operations, we are fully equipped to meet your needs promptly and efficiently.
Over the years, we have had the honor of supporting our clients in their manufacturing undertakings and building enduring relationships with them. As a small company, we take pleasure in providing individualized care and attention that is catered to your unique needs. In addition, we consistently provide the best wholesale chemicals and ingredients at affordable costs.
Gum Arabic Specifications
| Name | Value |
| --- | --- |
| CAS Number | 1-05-00 |
| Appearance | Off white to tan powder or granules. |
| Partition Coefficient | n/a |
| pH | n/a |
| Vapor Pressure | n/a |
| Relative Density | > 1 (Water = 1) |
| Solubility | n/a |
| Odor | Bland. |
| Boiling Point | n/a |
| Bulk Density | n/a |
Gum Arabic Documentation
Whether you require safety data sheets or certifications, our dedicated quality team is always prepared to furnish any essential compliance documents for Gum Arabic. To download our document packet for Gum Arabic click on the "Get Documentation" button.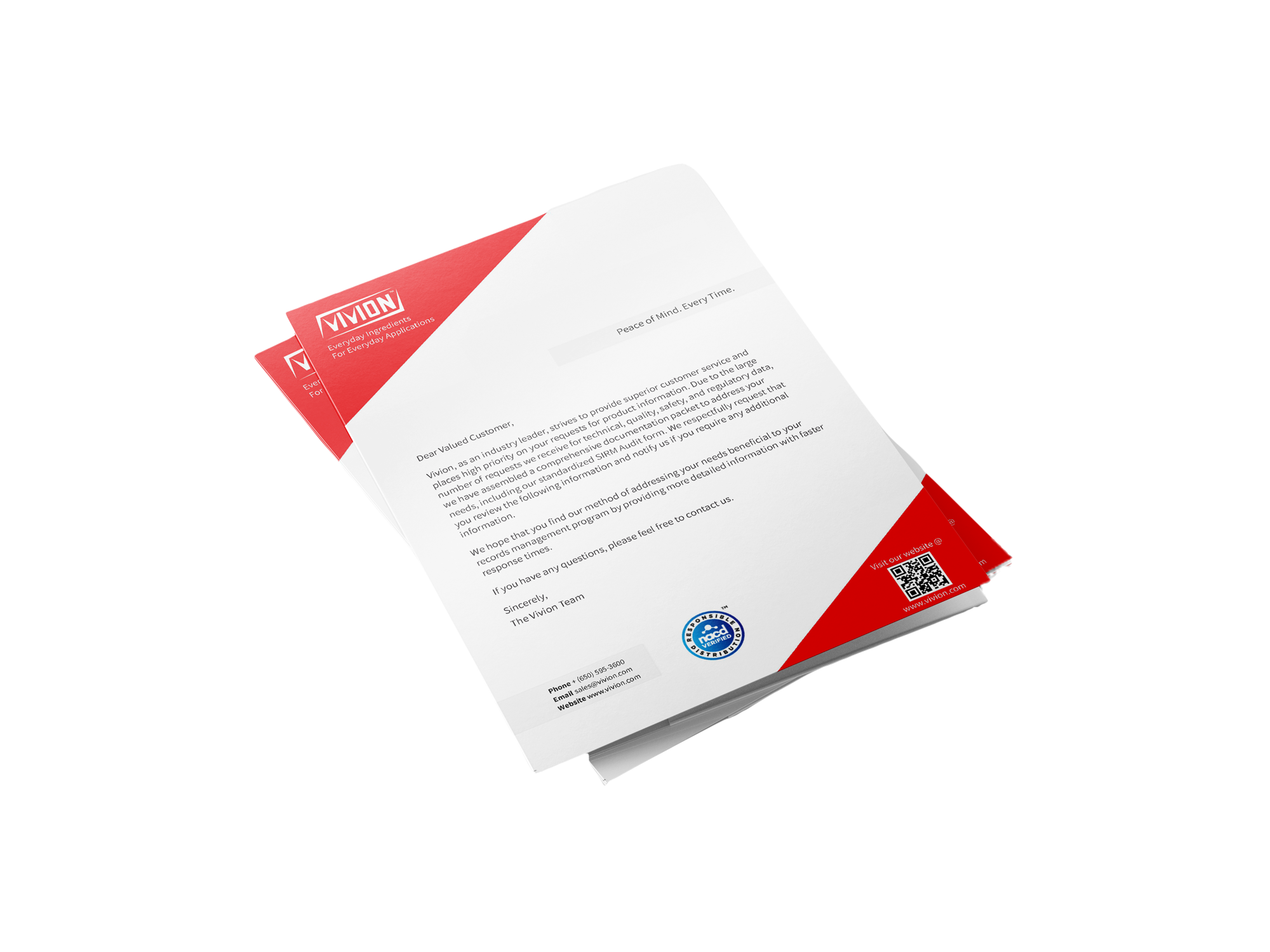 Why Choose Vivion as Your Gum Arabic Supplier
Ensuring precise and up-to-date documentation for every batch of Gum Arabic is a paramount concern for Vivion. Our dedicated quality team is fully equipped to furnish all compliance-related records, such as specifications and certifications. With Vivion's extensive and conveniently accessible documentation, you can rest assured that any potential production setbacks arising from compliance matters will be effectively averted.
When it comes to your Gum Arabic requirements in bulk, choosing us means unlocking the exceptional advantages of partnering with a small business. At Vivion, we are committed to your triumph, and you can rely on us to consistently deliver superior product quality along with unwavering customer support.
Coming from the sap of the Acacia tree, Gum Arabic is a natural, resinous substance that finds its application in various industries. It is highly valued for its unique properties and versatility.
Features and Benefits
Excellent Emulsifier: Ensures smooth and stable mixtures, making it ideal for food and beverage formulations.
Thickening Agent: Adds viscosity and texture to products, enhancing their overall quality.
Stabilizer: Helps maintain the integrity and shelf life of various formulations.
Health Benefits: Known for its prebiotic properties, promoting gut health and aiding digestion.
Use Cases
Food and Beverage: Widely used in the food industry as a natural additive, Gum Arabic gives texture and stability to beverages, confectionery, and baked goods.
Pharmaceutical: Gum Acacia is used as a binder in tablets and capsules, ensuring proper cohesion and disintegration.
Cosmetics: Gum Acacia is found in skincare and beauty products, acting as a film-forming agent and enhancing product texture.
Art and Craft: Used in watercolor paints and glues, Gum Arabic provides adhesive properties and improving paint flow.
Experience the exceptional quality of Gum Arabic by choosing Vivion, the trusted wholesale ingredient supplier committed to delivering reliability and excellence.
Ask One of Our Experts About Gum Arabic
Let our team of experts help you navigate our large product range so you don't have to do it by yourself. To connect for detailed information or request a product sample, complete the form below.