Erythritol
Choose Vivion as your Erythritol supplier. Vivion is known as a reputable wholesale distributor of Erythritol and other ingredients and chemicals. We ensure regulatory compliance, consistent high-quality products, and personalized service. If you are looking for bulk quantities of Erythritol then please reach out below for a quote to work with Vivion as your trusted ingredients supplier.
Questions about this product? We are here to help
Contact Us
for more information.
Get Quote for Bulk Erythritol
Get Quote for Bulk Erythritol
See the unmatched quality of Vivion's bulk Erythritol and experience what it means to have a trusted partner in your production. Ensuring a consistent supply of this sweetening agent, we, as a reputable wholesale ingredient provider, allow you to take advantage of competitive pricing and devoted customer support.
At Vivion, we ensure that our warehouses are always stocked with Erythritol, ready to support your production needs. As a dependable supplier of ingredients in bulk, we ensure a steady product supply to address any scale of manufacturing requirements. Leave your supply concerns to us and rely on our swift and efficient service with confidence.
Supporting our clients in their production efforts and building enduring business ties is the heart of our business philosophy. Because of our attention and service, Vivion has been able to support numerous facilities with their unique needs for many years. Moreover, we consistently provide wholesale ingredients and chemicals of the highest quality at competitive prices.
Erythritol Specifications
| Name | Value |
| --- | --- |
| CAS Number | 149-32-6 |
| Appearance | White Crystalline solid. |
| Flash Point | n/a |
| Partition Coefficient | n/a |
| pH | n/a |
| Vapor Pressure | n/a |
| Relative Density | n/a |
| Solubility | Appreciable (> 10%) |
| Odor | n/a |
| Boiling Point | 330C (626F) |
| Bulk Density | n/a |
Erythritol Documentation
Whether you require safety data sheets or certifications, our dedicated quality team is always prepared to furnish any essential compliance documents for Erythritol. To download our document packet for Erythritol click on the "Get Documentation" button.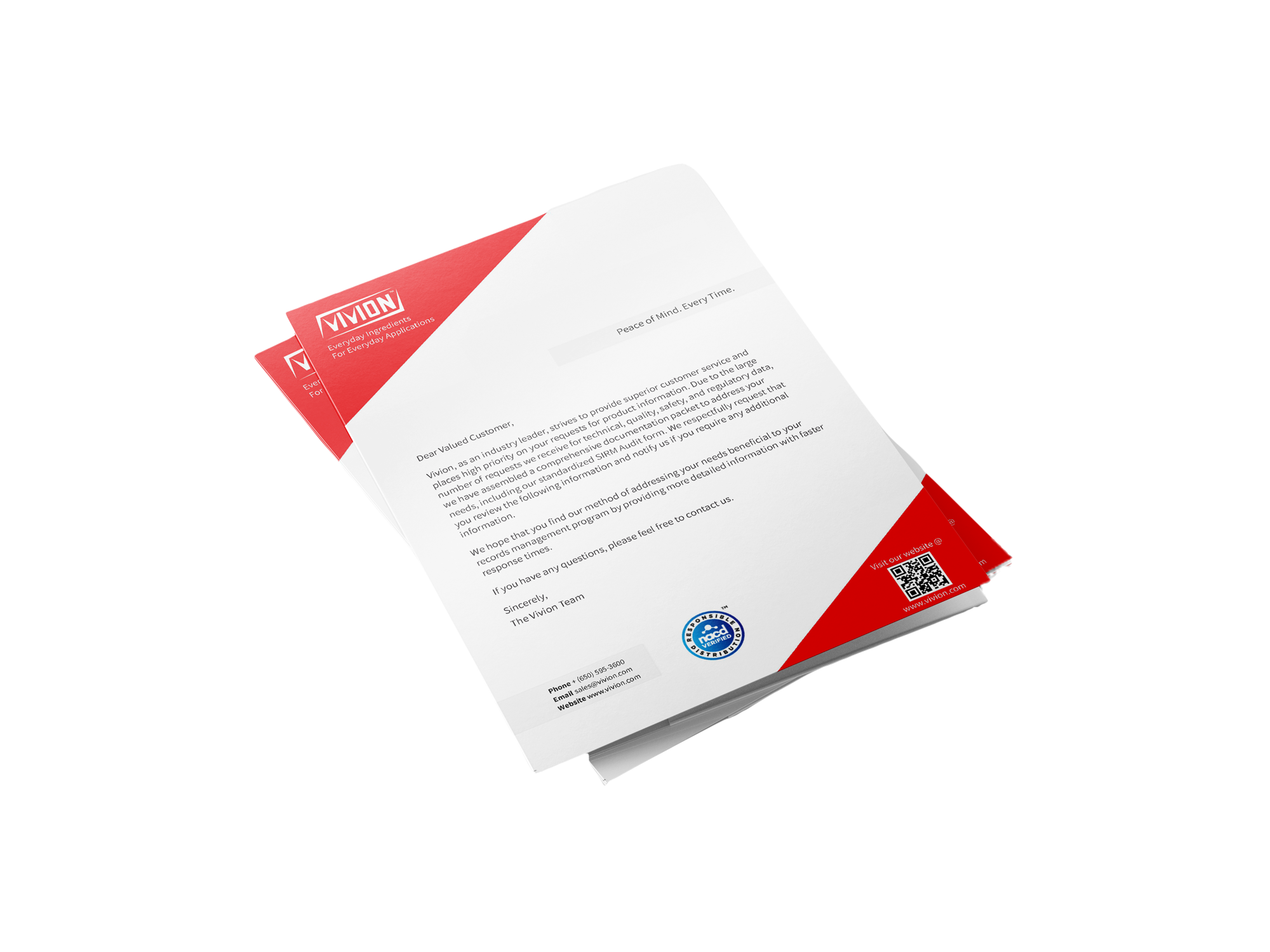 Why Choose Vivion as Your Erythritol Supplier
In manufacturing, we understand that documentation is key to product excellence. Our dedicated quality team is always ready to provide you with any compliance-related records, certifications, or specifications you may need. With Vivion's comprehensive and user-friendly documentation, you can have complete confidence that any production obstacles related to compliance will be a thing of the past when using our top-notch Erythritol.
When you choose Vivion's Erythritol for your sweetening needs, you experience the exceptional benefits of partnering with a small enterprise. Because your success is our first priority, we take great pride in providing premium ingredients and unparalleled service.
Erythritol is a natural sugar substitute derived from fruits and plants that offers a sweet taste without the guilt. A healthier substitute for sugar, this ingredient has a wide range of uses across various industries. Its versatility makes it a preferred choice for those seeking natural solutions in diverse applications.
Features and Benefits
Natural Source: Extracted from fruits and plants, making it a naturally occurring compound.
Healthier Option: Serves as an excellent choice for those looking to reduce their sugar intake and maintain a healthy lifestyle.
Great Taste: Offers a delightful sweetness that perfectly mimics the taste of sugar, enhancing the flavor of foods and beverages.
Easy to Use: Dissolves in water, making it a convenient ingredient for a wide range of applications.
Use Cases
Baking and Cooking: Replace sugar with Erythritol in your recipes to enjoy guilt-free treats, such as cookies, cakes, and sauces.
Beverages: Add Erythritol to your favorite drinks, including coffee, tea, and smoothies, for a naturally sweetened and refreshing experience.
Weight Management: Incorporate Erythritol into your diet to satisfy your sweet tooth without the extra calories, helping you maintain a healthy weight.
Dental Care: Erythritol does not contribute to tooth decay, making it a tooth-friendly alternative to sugar in chewing gums and oral care products.
Choose Vivion, your trusted supplier for high-quality Erythritol and other natural ingredients.
Ask One of Our Experts About Erythritol
Let our team of experts help you navigate our large product range so you don't have to do it by yourself. To connect for detailed information or request a product sample, complete the form below.