Dipotassium Phosphate Pwd Fcc
Choose Vivion as your Dipotassium Phosphate Pwd Fcc supplier. Vivion is known as a reputable wholesale distributor of Dipotassium Phosphate Pwd Fcc and other ingredients and chemicals. We ensure regulatory compliance, consistent high-quality products, and personalized service. If you are looking for bulk quantities of Dipotassium Phosphate Pwd Fcc then please reach out below for a quote to work with Vivion as your trusted ingredients supplier.
Questions about this product? We are here to help
Contact Us
for more information.
Get Quote for Bulk Dipotassium Phosphate Pwd Fcc
Get Quote for Bulk Dipotassium Phosphate Pwd Fcc
Vivion stands out as a leading wholesale supplier of ingredients and chemicals, providing Dipotassium Phosphate in quantities starting at 25 kg. Because we are committed to offering great products such as Dipotassium Phosphate, you can be certain of unsurpassed quality and satisfaction if you choose us as your distributor.
At Vivion, we understand how important it is to maintain a steady supply of Dipotassium Phosphate at each of our distribution facilities. No matter the capacity, we are always equipped to provide a continuous supply to keep your production running without interruptions. You'll never have to worry about your ingredients being out-of-stock or arriving late, allowing you to have a peace of mind.
Over the years, establishing enduring business relationships and supporting our clients' manufacturing endeavors is why we do what we do. We regularly supply premium wholesale ingredients and chemicals at prices that are market-competitive. Allow us the opportunity to provide individualized care and services tailored to your particular needs with Dipotassium Phosphate.
Dipotassium Phosphate Pwd Fcc Specifications
| Name | Value |
| --- | --- |
| CAS Number | 11-04-58 |
| Appearance | Hygroscopic granular, Colour : White. |
| Flash Point | n/a |
| Partition Coefficient | n/a |
| pH | 6.5999999999999996 |
| Vapor Pressure | n/a |
| Relative Density | n/a |
| Solubility | Insoluble. |
| Odor | Oderless |
| Boiling Point | n/a |
| Bulk Density | n/a |
Dipotassium Phosphate Pwd Fcc Documentation
Whether you require safety data sheets or certifications, our dedicated quality team is always prepared to furnish any essential compliance documents for Dipotassium Phosphate Pwd Fcc. To download our document packet for Dipotassium Phosphate Pwd Fcc click on the "Get Documentation" button.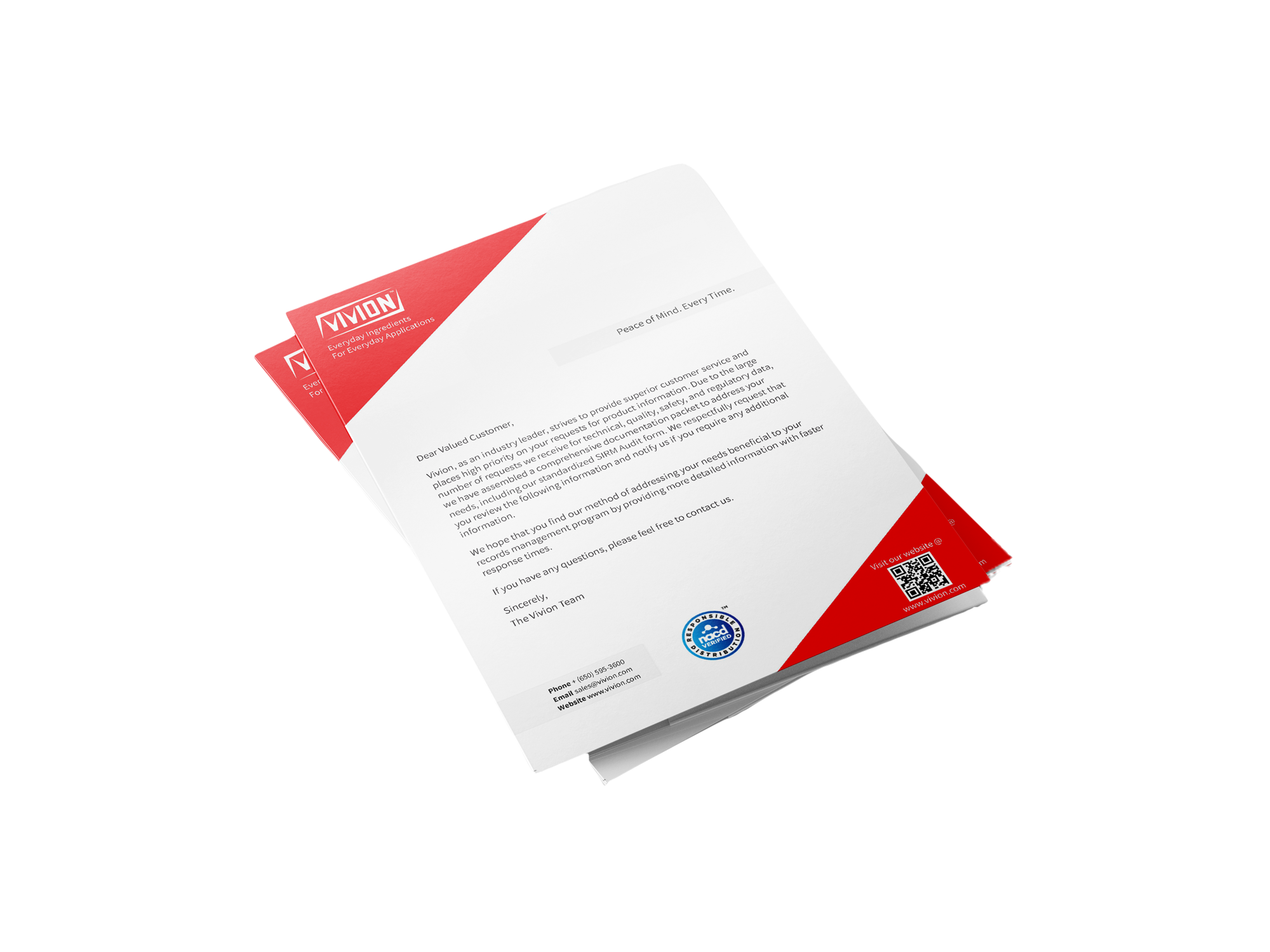 Dipotassium Phosphate Pwd Fcc Documentation
Why Choose Vivion as Your Dipotassium Phosphate Pwd Fcc Supplier
Maintaining accurate and current documentation for all of our products, including Dipotassium Phosphate, is a top priority for us at Vivion. Specifications and certificates are only a few of the documents that our committed quality team can supply you. With Vivion's comprehensive and easily accessible documentation, you can trust that any potential production delays caused by compliance issues will be effectively avoided.
When it comes to your bulk Dipotassium Phosphate requirements, selecting us guarantees you access to the exceptional advantages of partnering with a small business. At Vivion, we are committed to your triumph, and you can rely on us to consistently deliver the highest quality ingredients along with unwavering customer support.
Made from the elements potassium and phosphate, Dipotassium Phosphate is a white, powdery substance that finds applications in various industries. It is highly valued for its versatility and numerous benefits.
Features and Benefits
Stable Composition: Ensures consistent performance in various applications.
Fine Granularity: Facilitates easy mixing in formulations and enhances compatibility with other ingredients.
Nutritional Supplement: Supports overall health and well-being as an essential nutrient.
pH Regulation: Assists in maintaining the desired acidity levels in products.
Use Cases
Food Industry: Frequently used as a food additive, Dipotassium Phosphate enhances texture and stability in various food products.
Pharmaceutical: Dipotassium Phosphate is utilized in the formulation of medications and supplements for its beneficial properties.
Industrial Applications: Industrial processes, such as water treatment and metal cleaning, often find use in Dicalcium Phosphate.
Agriculture: Dicalcium Phosphate acts as a fertilizer additive, promoting plant growth and improving soil quality.
Secure your high-quality Dipotassium Phosphate from Vivion, the trusted wholesale ingredient supplier known for reliability and excellence in delivering top-notch products.
Ask One of Our Experts About Dipotassium Phosphate Pwd Fcc
Let our team of experts help you navigate our large product range so you don't have to do it by yourself. To connect for detailed information or request a product sample, complete the form below.