Citric Acid
Choose Vivion as your Citric Acid supplier. Vivion is known as a reputable wholesale distributor of Citric Acid and other ingredients and chemicals. We ensure regulatory compliance, consistent high-quality products, and personalized service. If you are looking for bulk quantities of Citric Acid then please reach out below for a quote to work with Vivion as your trusted ingredients supplier.
Questions about this product? We are here to help
Contact Us
for more information.
Get Quote for Bulk Citric Acid
Get Quote for Bulk Citric Acid
Because of our prominence as a wholesale distributor of ingredients and chemicals, Vivion is the best option for you to choose when looking for a bulk supplier of Citric Acid. To ensure we can fulfill a wide range of requests, we make this product available in a variety of amounts, starting at 25 kg. Because we emphasize quality, you can rest assured that every one of our products will always meet or exceed the most stringent quality standards.
Citric Acid is kept in stable supply at each of our various distribution centers, giving us a competitive advantage that sets us apart. There is no need to worry about supply constraints in any capacity, as our wholesale ingredients and chemicals are always available and in stock, no matter the magnitude of your demand.
As a small business, Vivion offers a heightened level of individualized attention to our customers that is frequently lacking in larger competitors. We sincerely appreciate each of our clients and commit to performing any additional effort in order to fulfill their unique requirements. Our dedication to providing smooth transactions and personalized assistance enhances the overall customer experience and guarantees satisfaction.
Citric Acid Specifications
| Name | Value |
| --- | --- |
| CAS Number | 77-92-9 |
| Appearance | Powder,Granulate, Color : white,Colorless |
| Flash Point | n/a |
| Partition Coefficient | -1 |
| pH | at 20°C, 2.2 at g/l: 10, 1.7 at g/l: 100, at 25°C, 1.8 at g/l: 50 |
| Vapor Pressure | 1.7 x 10-8 mm Hg (25°C / 77°F) (estimated) |
| Solubility | 592 g/l (20°C) |
| Odor | oderless |
| Boiling Point | n/a |
| Bulk Density | n/a |
Citric Acid Documentation
Whether you require safety data sheets or certifications, our dedicated quality team is always prepared to furnish any essential compliance documents for Citric Acid. To download our document packet for Citric Acid click on the "Get Documentation" button.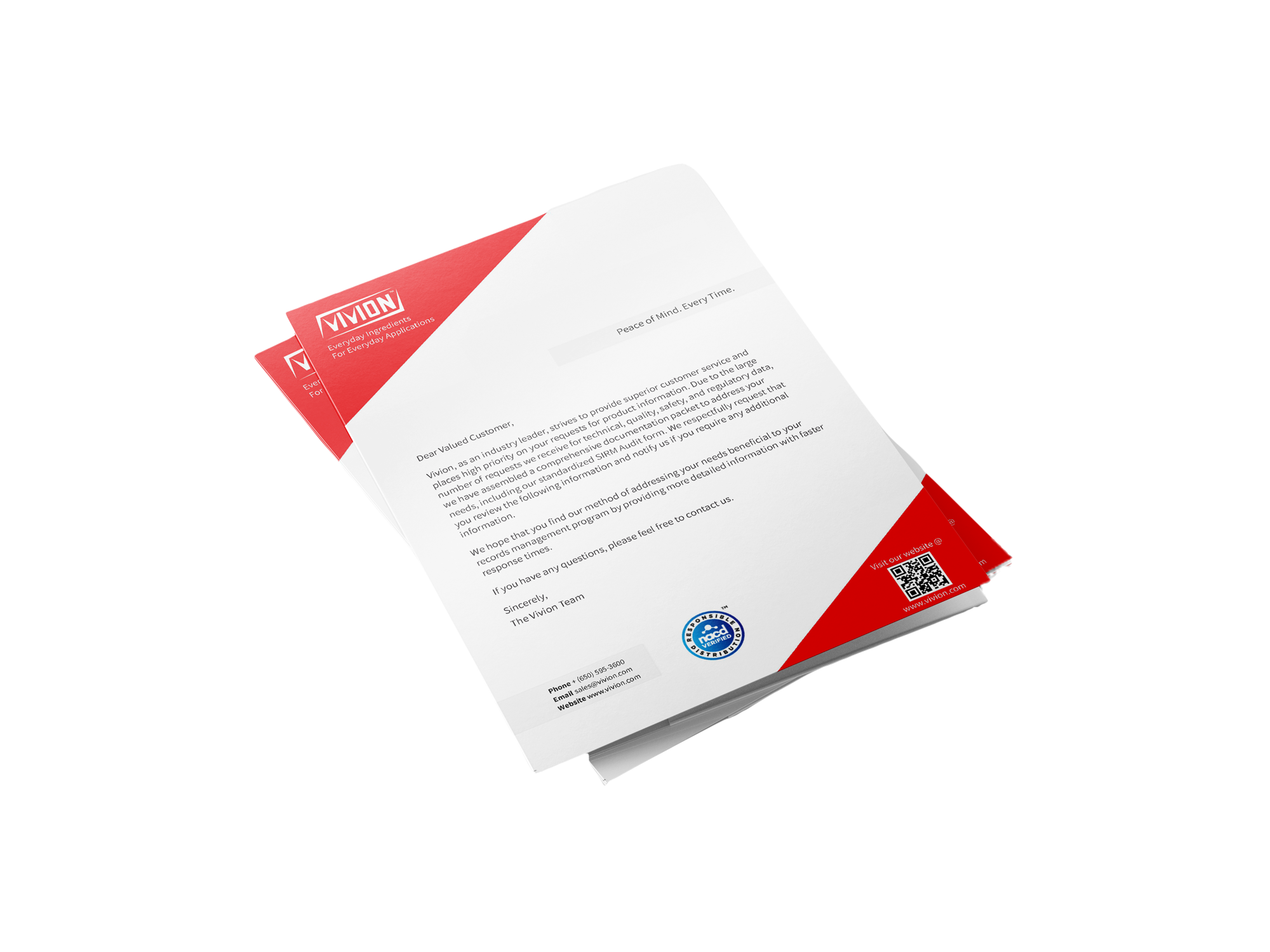 Citric Acid Documentation
Why Choose Vivion as Your Citric Acid Supplier
Our commitment to excellence is paramount at Vivion. Our heightened focus on the integrity and quality of our products ensures that they adhere to all regulatory requirements. Conforming to compliance and regulatory standards, we scrupulously maintain comprehensive records and provide comprehensive documentation and certification. You can always rely on the superior quality of our products, which consistently adhere to all regulatory requirements. Opting for Vivion as your primary supplier of bulk Citric Acid means aligning with a reputable wholesale provider renowned for superior product quality, personalized service, and rigorous adherence to quality and regulatory benchmarks. Discover the distinct Vivion difference, a company centered on its customers, and let us become your preferred partner for bulk Citric Acid needs. For your extensive Citric Acid needs, opting for our services allows you to experience the unique benefits of collaborating with a compact enterprise. You can depend on Vivion for outstanding product excellence and consistent customer support because we are devoted to your success.
Citric Acid is a natural acid found predominantly in citrus fruits and is known for its versatility across various industries.
Features and Benefits
Natural Origin:
Derived from citrus fruits like lemons and limes.
Water-Soluble:
Ideal for liquid solutions.
Preservative Qualities:
Extends product shelf life.
Taste Enhancer:
Adds a tangy flavor to food and drinks.
pH Adjuster:
Modulates pH in cosmetics.
Eco-Friendly Cleaning:
Acts as a natural descaler.
Use Cases
Nutraceutical:
A chelating (binding) agent in nutritional supplements. It may also be used for flavoring or effervescent effect it produces when combine with bicarbonates and carbonates.
Food & Beverage:
Flavoring and preservative agent in candies and beverages and a widely used acidulant (gives a tart, sour, or acidic flavor to foods).
Personal Care:
Used to soften water in soaps and laundry detergents. Adjusts pH in skincare products.
Household:
Natural cleaning agent for removing hard water stains.
Harness the benefits of Citric Acid from your trusted wholesale ingredients supplier, Vivion.
Ask One of Our Experts About Citric Acid
Let our team of experts help you navigate our large product range so you don't have to do it by yourself. To connect for detailed information or request a product sample, complete the form below.