Aerosil 200F
Choose Vivion as your Aerosil 200F supplier. Vivion is known as a reputable wholesale distributor of Aerosil 200F and other ingredients and chemicals. We ensure regulatory compliance, consistent high-quality products, and personalized service. If you are looking for bulk quantities of Aerosil 200F then please reach out below for a quote to work with Vivion as your trusted ingredients supplier.
Questions about this product? We are here to help
Contact Us
for more information.
Get Quote for Bulk Aerosil 200F
Get Quote for Bulk Aerosil 200F
Vivion is a renowned wholesale distributor of ingredients and chemicals, offering Aerosil 200F in convenient quantities starting from 10 lbs. Because of our dedication to quality, you can rest assured that you'll be completely satisfied with the Aerosil 200F you buy in bulk quantities from us.
At Vivion, we prioritize maintaining a consistent stock of Aerosil 200F across all our distribution centers. We value reliability in production and make every effort to maintain a constant supply. No matter the scale of your manufacturing operations, we are fully equipped to meet your requirements promptly and efficiently.
Throughout our history, we've proudly supported our customers in their manufacturing pursuits, building enduring business relationships and celebrating mutual success. Because we're a small business, you're guaranteed to receive personalized care and attention tailored to your specific manufacturing needs. Moreover, we consistently deliver wholesale ingredients and chemicals of the highest caliber at competitive prices.
Aerosil 200F Specifications
| Name | Value |
| --- | --- |
| CAS Number | 112945-52-5 |
| Grade | 200 |
| Appearance | Colour white, solid |
| Flash Point | n/a |
| Partition Coefficient | n/a |
| pH | 3.7 - 4.5 (40 g / l) (20 °C) |
| Vapor Pressure | n/a |
| Relative Density | ca. 2.2 g/cm3 (20 °C) |
| Solubility | > 1 mg/l |
| Odor | odorless |
| Boiling Point | not determined |
| Bulk Density | ca. 50 g / l, , Method: DIN / ISO 787/11 |
Aerosil 200F Documentation
Whether you require safety data sheets or certifications, our dedicated quality team is always prepared to furnish any essential compliance documents for Aerosil 200F. To download our document packet for Aerosil 200F click on the "Get Documentation" button.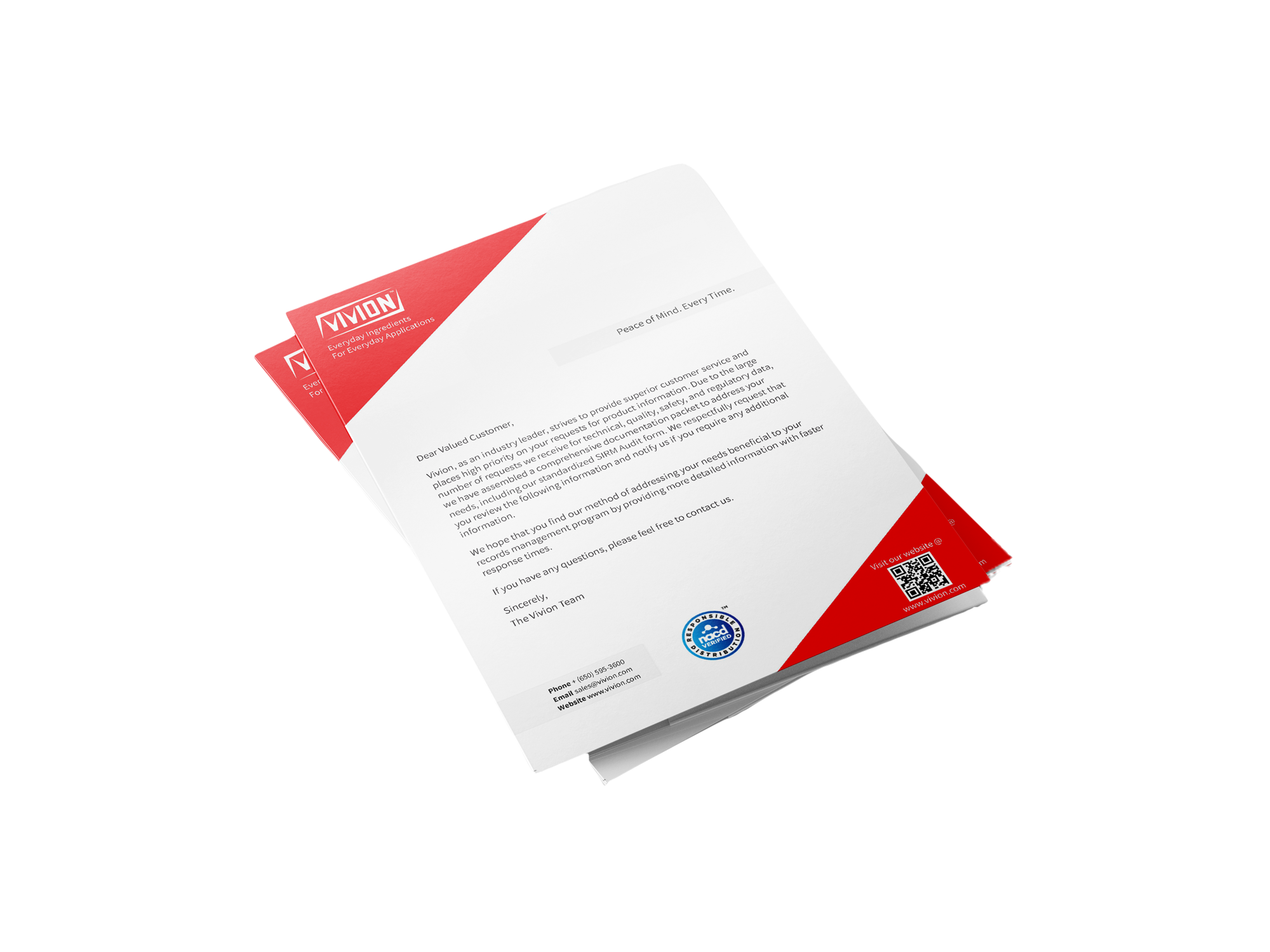 Aerosil 200F Documentation
Why Choose Vivion as Your Aerosil 200F Supplier
Ensuring precise and up-to-date documentation for every ingredient is of utmost importance to Vivion, and Aerosil 200F is no exception. Our dedicated quality team is fully equipped to furnish all compliance-related documents, such as specifications and certifications, for this exceptional product. With Vivion's extensive and conveniently accessible documentation, you can rest assured that any potential production delays arising from compliance concerns will be effectively averted.
For your Aerosil 200F needs, choosing Vivion ensures the unique benefits of collaborating with a small business. In order to ensure your success, we continually strive to provide superior products and unmatched customer service.
Aerosil 200F is a versatile and high-performance product that finds applications in various industries. Derived from fumed silica, this fine white powder offers exceptional properties and benefits.
Features and Benefits
Enhanced Performance: Aerosil 200F improves the performance of various formulations, ensuring consistent and reliable results.
Easy Integration: With its fine granularity, this product effortlessly blends with other ingredients, facilitating smooth mixing and formulation processes.
Multi-functional: Serving as a valuable additive in a wide range of applications, Aerosil 200F offers benefits beyond its primary function.
Improved Stability: Aerosil 200F aids in maintaining the stability and integrity of formulations, even in challenging environments.
Use Cases
Coatings and Paints: Aerosil 200F enhances the performance and durability of coatings and paints, providing excellent anti-settling and anti-sagging properties.
Adhesives and Sealants: To ensure optimal bonding and sealing capabilities, Aerosil 200F improves the rheological properties of adhesives and sealants.
Pharmaceuticals: Aerosil 200F is utilized in pharmaceutical formulations to enhance flow properties, improve stability, and aid in the uniform distribution of active ingredients.
Cosmetics and Personal Care: Providing enhanced texture, stability, and performance in products such as conditioners, hair dyes, and bleaching creams, Aerosil 200F finds applications in the cosmetic and personal care sectors.
Choose Aerosil 200F from Vivion, the leading wholesale supplier of high-quality ingredients, to elevate your formulations with reliability and excellence.
Ask One of Our Experts About Aerosil 200F
Let our team of experts help you navigate our large product range so you don't have to do it by yourself. To connect for detailed information or request a product sample, complete the form below.