Tri Tab
Choose Vivion as your Tri Tab supplier. Vivion is known as a reputable wholesale distributor of Tri Tab and other ingredients and chemicals. We ensure regulatory compliance, consistent high-quality products, and personalized service. If you are looking for bulk quantities of Tri Tab then please reach out below for a quote to work with Vivion as your trusted ingredients supplier.
Questions about this product? We are here to help
Contact Us
for more information.
Get Quote for Bulk Tri Tab
Get Quote for Bulk Tri Tab
When it comes to finding a reliable supplier for Tri-Tab®, trademarked by Innophos, look no further than Vivion. As a leading wholesale distributor of ingredients and chemicals, we are your best option for purchasing this product in bulk. It is important to us to meet your specific needs, which is why we offer Tri-Tab® in various quantities, starting from 25 kg.
At Vivion, quality is our top priority. You can trust that every Tri-Tab® batch we ship will not only meet but exceed the highest quality standards. We're glad to only provide our customers with the best.
One of the things that sets us apart from our competitors is that we always have a stable supply of Tri-Tab® at all of our distribution centers. You can always rely on us to have this bulk Tri-Tab® in stock. No matter the size of your demand, there will be no supply constraints when you choose Vivion as your supplier, and you'll experience product availability and pain-free production.
We value each and every one of our customers. We believe in providing a personalized experience that larger competitors often lack. Our dedicated team is committed to going the extra mile to fulfill your unique requirements. With Vivion, you can expect smooth transactions and personalized assistance that will enhance your overall satisfaction.
Tri Tab Specifications
| Name | Value |
| --- | --- |
| CAS Number | 12167-74-7; 1306-06-5 |
| Appearance | White powder |
| Flash Point | n/a |
| Partition Coefficient | n/a |
| pH | n/a |
| Vapor Pressure | n/a |
| Relative Density | n/a |
| Solubility | Partially soluble |
| Odor | odourless |
| Boiling Point | n/a |
| Bulk Density | n/a |
Tri Tab Documentation
Whether you require safety data sheets or certifications, our dedicated quality team is always prepared to furnish any essential compliance documents for Tri Tab. To download our document packet for Tri Tab click on the "Get Documentation" button.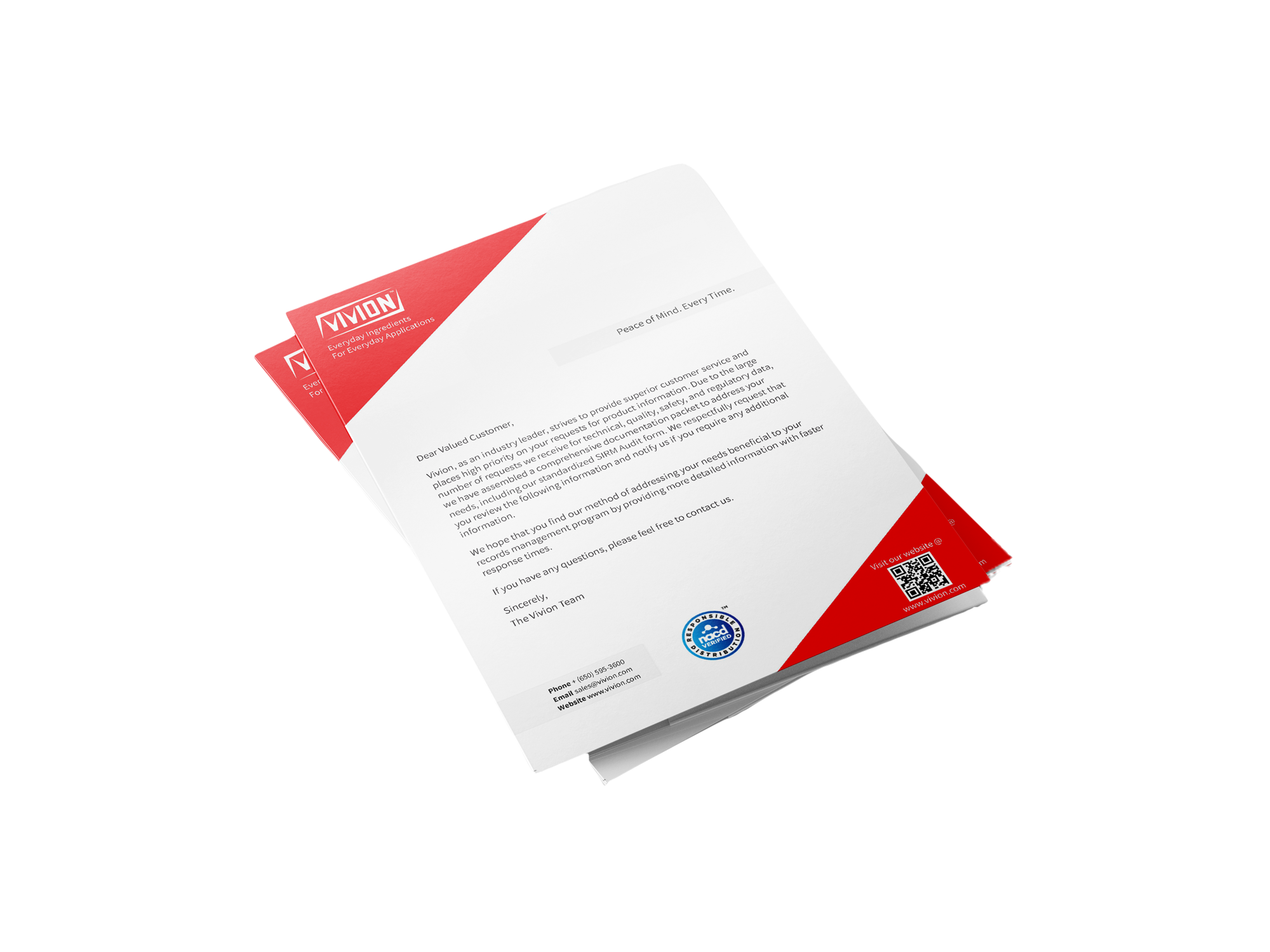 Why Choose Vivion as Your Tri Tab Supplier
Vivion prioritizes quality in all aspects of our products, including Tri-Tab®. We guarantee that Tri-Tab® meets all regulatory criteria as part of our mission to provide integrity and excellence. Our thorough record-keeping and availability of extensive documentation and certifications for all of our goods, including bulk Tri-Tab®, demonstrate our strong adherence to compliance and regulatory standards. Rest confidently that the Tri-Tab® constantly delivers outstanding quality on which you can rely while meeting all regulatory standards.
What does it mean when you choose Vivion for your Tri-Tab® needs? You are selecting a trusted wholesale provider known for delivering top-notch product quality, tailored service, and unwavering commitment to meeting quality and regulatory standards. Experience the special Vivion advantage, a company dedicated to putting customers first, and allow us to be your preferred partner for all your Tri-Tab® needs.
Tri-Tab® is a groundbreaking ingredient known for enhancing various products in the food and pharmaceutical sectors. With its unique properties and benefits, this ingredient is an essential addition to many formulations.
Features and Benefits
High Purity: Possesses a high level of purity, ensuring optimal performance in formulations.
Stabilizing Agent: Acts as a stabilizing agent, ensuring the consistency and longevity of products.
Fortification: Used to fortify foods, enhancing their nutritional value.
Pharmaceutical Use: Utilized as an excipient in tablet formulations.
Use Cases
Food Production: Tri-Tab® is used in bakery products, cereals, and other foods to improve texture and nutritional content.
Pharmaceuticals: It's a preferred choice for tablet formulations, ensuring consistent dosage and stability.
Animal Feed: This ingredient is often added to animal feed to provide essential minerals.
Dietary Supplements: Due to its high calcium and phosphate content, it's a popular addition to dietary supplements.
Improve your production with Tri-Tab®, a trusted ingredient brought to you by Vivion, your reliable supplier of high-quality industrial ingredients.
Ask One of Our Experts About Tri Tab
Let our team of experts help you navigate our large product range so you don't have to do it by yourself. To connect for detailed information or request a product sample, complete the form below.